LOS ANGELES, California –
Just as car-lovin' kids come in all sizes (and ages), so do their toys. Proof of that came in the form of several Hot Wheels favourites on display at the recent
L.A. Auto Show
, in full-size living colour.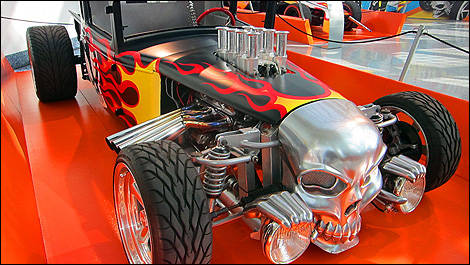 Photo: Lesley Wimbush/Auto123.com
The Boneshaker is an outrageous rat-rod style hot rod, its face a menacing giant chrome skull whose skeletal hands grasp the headlights. Chrome velocity stacks from the 402 hp short-block Chevrolet engine pierce the flat-black, flame licked hood, flanked by four chrome side pipes.
The full-size embodiment of one of Hot Wheels' most famous and collectible toys, Boneshaker competed during the Wall Tracks Drift portions of the Hot Wheels "Fearless at the 500" show.
Designed by Larry Wood, a 40-year Hot Wheels veteran, the 1:64 die-cast Boneshaker is a relatively new addition to the lineup – yet easily one of its most popular.
His identity guarded as closely as Top Gear's "the Stig", a mysterious "Yellow Driver" thrilled fans at the Indy 500 by successfully leaping 332 feet off a 90-foot ramp in a specially-prepared Hot Wheels truck, and setting a world record for four-wheelers.
It was a childhood dream come to life for most of the car guys in the crowd, since the ramp-to-ramp jump was constructed to resemble the iconic orange Hot Wheels track of their youth.
The driver was revealed to be none other than Tanner Foust - 3-time X-Games gold medalist and host of Top Gear USA. Foust was on-hand at the L.A. Show for an autograph and picture session with his high-flying Pro2 truck.
The highly-modified truck is the creation of Hot Wheels designer Ryu Asada, and was brought to life, full-size by ES Motorsports and Picture Car Warehouse. It's powered by an 875 hp V8, in a mid-engine layout. A peek at the undercarriage reveals impressive suspension engineering capable of 18" of travel, with a custom fabricated cage frame.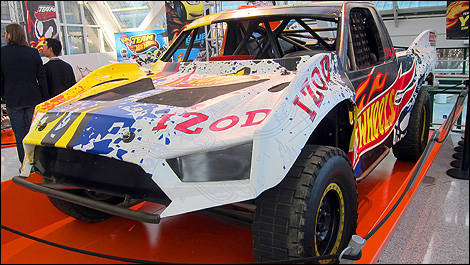 Photo: Lesley Wimbush/Auto123.com