Tony Kanaan was a happy man on October 1st when he took delivery of his brand new 2014 Chevrolet Corvette that he earned following his victory at this year Indianapolis 500.
Kanaan was in Indianapolis to be present for the Grand Prix of Indianapolis announcement when he got the phone call that his car was ready. The Brazilian went down to the Bill Estes Chevrolet dealership and finally got the keys.
He then took his blue 2014 Chevrolet Corvette Stingray Pace Car to the IMS to show it around.
Kanaan plans to have the car delivered to his home in Miami later during the offseason.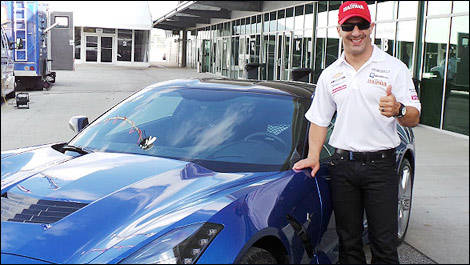 Tony Kanaan and his new Chevrolet Corvette Stingray. (Photo: IndyCar)