The IndyCar series has revealed that both engine manufacturers Honda and Chevrolet will produce the first round of aero kits for 2015, with the possibility of additional manufacturers or third-party vendors supplying kits in '16.
Those kits had been delayed several times in the past due mainly to costs and ongoing discussions about the final regulations.
IndyCar officials are saying that the kits, which will be mounted onto the current Dallara chassis, will allow for greater visual differentiation between the cars as well as providing a platform for the achievement of higher speeds.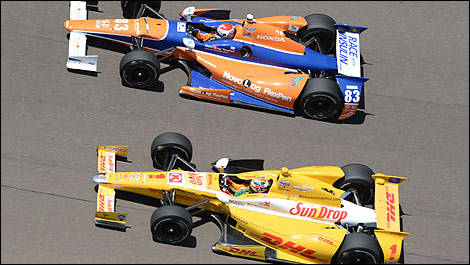 Photo: IndyCar
The rules will allow for the addition of kits from any further engine manufacturers that might join the series, as well as any third party vendors that become eligible to become an approved supplier.
Both of the existing manufacturers will be able to upgrade their kits at the same time, with any modifications to be approved through homologation.
Entrants will be limited to no more than two aero kits during a season and their costs will be limited to $75,000, inclusive of all components, but excluding fasteners. An update kit for 2016 will cost no more than $15,000.
On-track testing of the kits is scheduled to begin on October 6 2014, and will end on January 18 2015.