From press release
There have been many initiatives over the years to raise financial support for Racing For Cancer, and the latest involves renting Verizon IndyCar Series driver James Hinchcliffe's face.
Hinchcliffe shaved a good part of his beard, leaving a Jason Lee-like "My Name is Earl" mustache for the Honda Indy 200 at Mid-Ohio race weekend, to step in for Ryan Hunter-Reay.
Team 'Stache, a group of Hunter-Reay fans, donated $1,028 with the request that Hunter-Reay join their facial follicle group. Alas, Hunter-Reay isn't up to the challenge.
"It would take a whole season if I were to grow a moustache," the reigning Indianapolis 500 Mile Race champion and 2012 Verizon IndyCar Series champion said.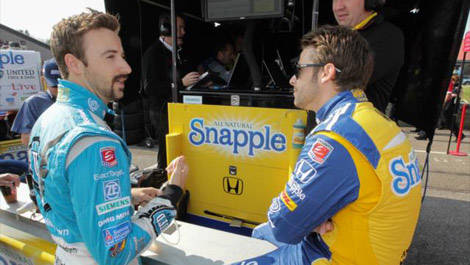 James Hinchcliffe with teammate Marco Andretti (Photo: Joe Skibinski/IndyCar.com)
In stepped his Andretti Autosport teammate, who's had facial growth going for months.
"This morning he offered, he said, 'Ryan, if you raise another thousand dollars, I'll just go moustache,' '' Hunter-Reay said. "I was, 'Done.' ''
Added Hinchcliffe: "This is in support of Racing For Cancer and my homeboy Ryan Hunter-Reay, who is not as awesome at growing a mustache."
Asked if Hinchcliffe would match the donation, he replied "I donated my face, my ego and embarrassment."
Hunter-Reay founded the charity after his mother died of cancer in 2009, and he drives the No. 28 car to honour the 28 million people living with cancer around the world.