Juan Pablo Montoya got some oval time yesterday when he joined his new Penske IndyCar team for more testing this time on the Phoenix International Speedway one-mile oval.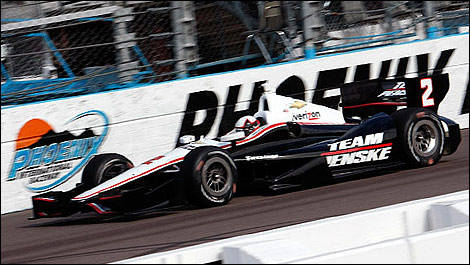 Juan Pablo Montoya, Team Penske-Chevrolet. (Photo: LAT/IndyCar)
Montoya had tested previously on the Sebring road course back in November where he got acquainted for the first time with a DW12 Dallara-Chevrolet.
Montoya and Castroneves did some laps in a road car. While Castroneves was driving, Montoya told him "In NASCAR we brake here and here". And Castroneves replied "No, this is going to be wide open!"
Next up on the testing schedule, Montoya will join teammates Castroneves and Will Power for a manufacturer test in mid-January at Sebring.
An IndyCar Open Test is slated for March 16-17 at Barber Motorsports Park near Birmingham, Alabama.
Helio Castroneves and Juan Pablo Montoya at the Phoenix International Speedway. (Photo: LAT/IndyCar)