From IndyCar.com
IndyCar announced that it will live stream all Verizon IndyCar Series practice activity for the remainder of the 2014 season on IndyCar.com, the official website of the sanctioning body. The package also includes the IMS Radio Network broadcasts, anchored by legendary motorsports announcer Paul Page, and real-time Timing & Scoring.
Verizon IndyCar Series qualifying and race activity is televised on NBCSN, and will continue to be streamed on NBC Sports Live Extra – NBC Sports Group's live streaming product for desktops, mobile devices and tablets.
"We're thankful to our partners at NBCSN for allowing us to stream Verizon IndyCar Series practice on IndyCar.com," Hulman Motorsports CMO C.J. O'Donnell said. "INDYCAR fans across the globe are unbelievably passionate about our sport and we're happy to be able to provide them with additional live coverage from our events."
The Verizon IndyCar Series practice live stream can be viewed at RaceControl.IndyCar.com. Practice sessions for this weekend's Shell and Pennzoil Grand Prix of Houston presented by the Greater Houston Honda Dealers are Friday, June 27, from 11-11:45 a.m. and 3-3:55 p.m. (ET).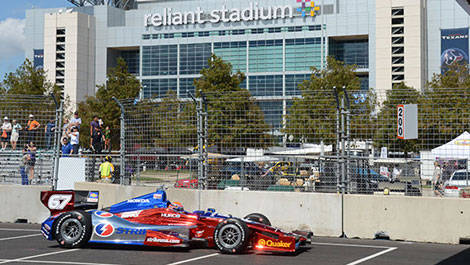 Photo: LAT for IndyCar