IndyCar KV Racing Technology team invited Canadian driver Mikael Grenier for tests on the Sebring Circuit, November 13th and 14th.
Following the departure of Tony Kanaan who will join Target Chip Ganassi for the 2014 season, KV Racing is in the process of finding a replacement for its veteran driver.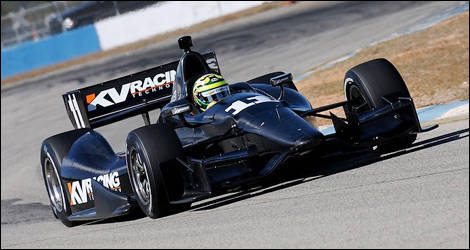 Tony Kanaan aboard the KV Racing Dallara, in Sebring. (Photo: IndyCar)
We can assume that this invitation is the direct result of Grenier recent association with well-known agent Alan Miller who became a fan of the 21-year-old racer.
The last time Grenier drove in a race was last April when he took part in the Indy Lights Series event in Long Beach, California.
Silly season is beginning to gain momentum and other drivers are on KV Racing's short list among them; James Hinchcliffe, Alexandre Tagliani and Oriol Servia.