Scott Dixon (Ganassi) took the pole position for the IndyCar Baltimore event from the hands of Will Power (Team Penske) with less than 1 minute to go to the qualifying session on Saturday.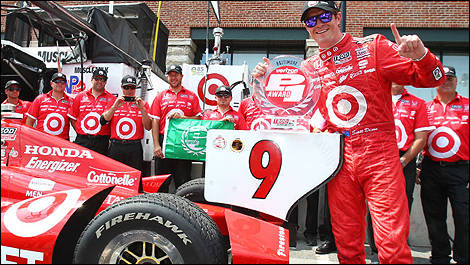 Scott Dixon (Photo: IndyCar)
Before Dixon final assault on the Baltimore street circuit, Power was set to end-up the fastest driver with an advantage of more than 0.3 seconds.
Although he did try to reclaim that front row position in an ultimate lap, the Australian made a mistake in the middle of the hairpin; leaving him with the second spot.
Dixon was not supposed to be in the final Fast-Six Shootout, having managed only seventh, but when Graham Rahal (Rahal Letterman) was docked his best lap for having been responsible for a late red flag, the Neo Zealander was able to move on the ultimate session.
Both of Dixon's main championship rivals were knocked out of the second qualifying phase, meaning that Helio Castroneves (Penske) and Ryan Hunter-Reay (Andretti) will be forced to start several rows behind the Ganassi driver.
Simon Pagenaud, Justin Wilson, Josef Newgarden and Christian Vautier completed the first three row.
Terrible afternoon for Dixon's partner Dario Franchitti who could only managed 15th due to a car that seemed not fast enough. Franchitti will lose 10 grid spots for the race because of the crew installing the sixth engine of the season.
Pos Driver Team/Engine Time Gap
1. Scott Dixon Ganassi/Honda 1m18.0838s
2. Will Power Penske/Chevy 1m18.1171s +0.0333s
3. Simon Pagenaud Schmidt/Honda 1m18.4307s +0.3469s
4. Justin Wilson Coyne/Honda 1m18.8698s +0.7860s
5. Josef Newgarden Fisher/Honda 1m18.9022s +0.8184s
6. Tristan Vautier Schmidt/Honda 1m19.0380s +0.9542s
7. Helio Castroneves Penske/Chevy 1m19.0288s Round 2
8. Ryan Hunter-Reay Andretti/Chevy 1m19.0367s Round 2
9. Charlie Kimball Ganassi/Honda 1m19.0523s Round 2
10. Takuma Sato Foyt/Honda 1m19.2216s Round 2
11. James Hinchcliffe Andretti/Chevy 1m19.3182s Round 2
12. Graham Rahal Rahal/Honda 1m22.2045s Round 2
13. James Jakes Rahal/Honda 1m18.6398s Group 1
14. Luca Filippi Herta/Honda 1m19.1242s Group 2
15. Dario Franchitti Ganassi/Honda 1m18.6694s Group 1
16. Tony Kanaan KV/Chevy 1m19.3051s Group 2
17. Oriol Servia Panther/Chevy 1m18.8075s Group 1
18. Marco Andretti Andretti/Chevy 1m19.4738s Group 2
19. Simona de Silvestro KV/Chevy 1m18.9829s Group 1
20. Ed Carpenter Carpenter/Chevy 1m20.5694s Group 2
21. Sebastian Saavedra Dragon/Chevy 1m19.2440s Group 1
22. EJ Viso Andretti/Chevy Group 2
23. Stefan Wilson Coyne/Honda 1m20.1871s Group 1
24. Sebastien Bourdais Dragon/Chevy Group 2