IndyCar series' officials introduced in Baltimore reference lines to aid in monitoring pit conduct, and avoid incidents like the one that happened last weekend, involving Scott Dixon.
IndyCar officials have added point-of-reference "courtesy zones" to the outside edges of each pit box to aid in monitoring pit stop conduct and etiquette in the Grand Prix of Baltimore presented by SRT. The courtesy zones are defined by painted 45-degree dotted lines.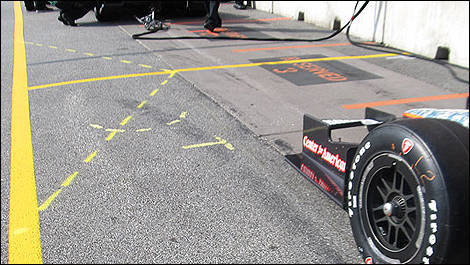 New 'courtesy zones' in the pit boxes. (Photo: IndyCar)
IndyCar added rule 7.9.17 to the IZOD IndyCar Series rulebook to reinforce its pit stop code of conduct:
Any participant who, in the opinion of the officials, positions a car, equipment, and/or personnel so as to create a hazard or disruption of the event or to interfere with the activities of another competitor may be penalized.
The lines will remain part of pit boxes defined by paint for the three races left in the IZOD IndyCar Series season. IndyCar officials paint defined pit boxes at 10 of the 16 venues it visits, with the option at Iowa Speedway and Pocono Raceway. The boxes are 38 feet long at Baltimore and vary at other venues.