As reported by Jaguar
Jaguar has launched an innovative support programme for chauffeurs which will strengthen the appeal of the exciting new
XJ
saloon as the ideal choice for professional drivers and companies wanting to offer the ultimate in luxury transportation.
Photo: Jaguar
The new
Jaguar XJ
has transformed the executive car market with its distinctive design, generous accommodation and impressive predicted residual values. The Jaguar Chauffeur Programme improves the proposition for businesses still further, providing a class-leading combination of round-the-clock support and minimised running costs.
The Chauffeur Programme – which is also available with the award-winning Jaguar XF model – offers licenced operators a range of unique benefits which includes like-for-like replacement vehicles in the event of a mechanical breakdown during the warranty period, tailored hire and reward insurance with a £500 insurance contribution, fault and non-fault accident management cover, one year's free membership to the global Quintessentially Jaguar concierge service, priority servicing and repairs, plus flexible finance options.
Leading UK businesses are already expressing strong interest in the bold new Jaguar XJ and its innovative support programme.
The prestigious Lanesborough Hotel in London is among the first to add the vehicle to its chauffeur fleet, ordering two XJ 3.0L V6 Diesel Long Wheelbase models.
"Lanesborough customers demand the highest levels of quality and luxury, and the stand-out style and comfort of the new Jaguar XJ will be appreciated by all of our guests," says Geoffrey Gelardi, Managing Director, The Lanesborough.
"The XJ sets a new benchmark for performance, efficiency and comfort, and its combination of stunning design and impressive sustainability provides the perfect complement to the brand image of The Lanesborough."
Jaguar XJ – the Innovative and Sustainable Choice
Supported by Jaguar's industry-leading chauffeur package, the new XJ provides companies with a compelling business case. With its attractive residual values, low carbon footprint and distinctive appearance, the Jaguar XJ offers chauffeurs an innovative and sustainable choice.
Research carried out by industry experts CAP Monitor predicts that the new XJ will have class-leading residual values over the next three years, resulting in reduced cost of ownership.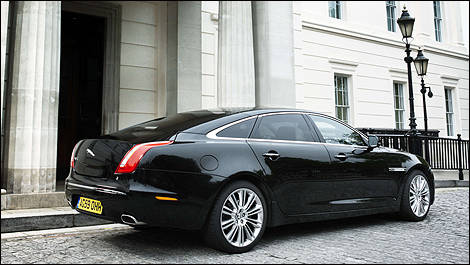 Photo: Jaguar