• Jeep dealers are dealing with big stock surpluses of the Renegade, and a couple of other models as well.
Things aren't going well for the Jeep Renegade. Sales of the small SUV have fallen dramatically in recent years, especially in 2022. In the United States, Jeep was used to selling 100,000 Renegades per years, as recently as 2018. Only 10,000 units sold last year.
In Canada, the drop in sales is even more dramatic: only 345 Renegades sold nationwide in 2022.
A new report by CarEdge, a firm offering assistance to new vehicle buyers, shows that Jeep dealers are struggling with a surplus of Renegades. Figures show there's enough to stock to meet demand for two years.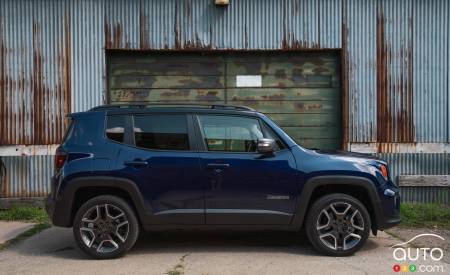 To give you an idea, the average number of days it currently takes to sell a Renegade that's in stock at a dealer is 753. By contrast, this past May, a Subaru Outback took just 9 days to find a buyer. A Honda CR-V 17 days, a Toyota Corolla 22.
The Renegade is not alone; there are Stellantis products amassed in dealers' inventories. These include the Ram 2500 (459 days), Jeep Cherokee (381 days) and Chrysler Pacifica (316 days). Jeep dealers are also struggling with excess inventories of the Compass (352 days) and Gladiator (283 days) models, among others.
According to CarEdge, 7,630 units of the Jeep Renegade are currently for sale in the United States.
For consumers, this can translate into good deals, with dealers going further to move this surplus inventory. On the other hand, there are reasons why theses models are not selling well. In the case of the Renegade, we're talking about a product that's outdated, overpriced and lagging behind its competitors.