Kia's new Corporate Headquarters
On March 29th 2005, Kia officially christened their new Corporate Canadian Headquarters in Mississauga. Previously, the Head Office was located at 5875 Chedworth Way also in Mississauga. In late January of this year, Kia moved their operations to their new location at 180 Foster Crescent. Approximately 270 people were present for the ribbon cutting ceremony where dignitaries such as the Mayor of Mississauga, high-ranked officials from Kia and others were present. Other guests included dealer principals and members of the Press.
The Hyundai-Kia Automotive Group is presently ranked as the 7th largest car manufacturer on the Planet. They have also been named the fastest growing automaker in the World. To cope with their ever-increasing business, Kia Canada Inc. commissioned a new larger facility to house everything from the administration and sales, to parts and information technology. The new building has 50% more office space, 66% larger warehouse and a 2 500 sq.ft showroom.
The group's goal is to hit the top 5 in sales by 2010. Many do not realize that Kia is Korea's oldest car manufacturer - they turn 61 years old in 2005. Over these years, Kia has built 16 manufacturing and assembly plants in 13 countries. Their dealership network spans over 190 nations around the globe where 1.1 million cars and trucks are sold each year.
2006 Kia Rio
At this event, we were treated to the Canadian Premiere of the all-new
Kia Rio. The Rio is an integral part of Hyundai's and Kia's plan to introduce nearly a dozen new models over the next five years. This 2006 entry-level sedan looks nothing like the previous generation Rio. A notable point of interest especially for the Quebec market is that there will be a 5-door version offered along side the 4-door replacing the RX-V.
The Rio will be delivered with a 1.6L inline 4-cylinder engine that develops 110 hp and 107 lb/ft of torque. There will be two transmissions available: a 4-speed automatic or a 5-speed manual. It will be equipped with standard 4-wheel disc brakes along with ABS brakes.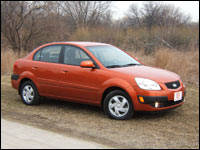 The general interior styling of the Rio is typically Korean, albeit with the center portion of the dashboard turned slightly toward the driver very much like the older BMWs and much improved ergonomics. Cabin dimensions are said to be greater in every aspect over the previous Rio. Kia also states that it is as big as and even larger than many of the Spectra's competitors such as the Civic and Corolla. All Rios will be equipped with 6 air bags (dual front, side and side curtain). A height adjustable driver seat will also be part of the longer list of standard features. This completely revised Rio looks ready and willing to take on the competition, which include the Chevrolet Aveo, Suzuki Swift+ and Pontiac Wave trio and the Toyota Echo.