Picture yourself behind the wheel of a brand new
Ford Mustang
, eyes staring at the road ahead, the powerful hood, and that shiny new Mustang watch at your wrist. Yep, it's now possible thanks to a partnership between the Blue Oval and Shinola, a Detroit-based luxury goods manufacturer.
As you probably know, the iconic muscle car will celebrate its 50th anniversary on April 17th, 2014. Ford is therefore launching a number of licensed products to mark this milestone.
In this case, the limited-edition, 46-mm premium quartz timepiece by Shinola proudly sports the unique Mustang 50 Years logo. It also features Swiss movements, a scratch-resistant sapphire crystal face, and premium black leather for the band with a screw-down crown.
"Like the Mustang itself, we want our licensed products to convey an attitude of strength, passion and quality," said John Nens, Ford lead for global brand licensing. "Shinola embodies all of these things and is a perfect fit to celebrate this special moment in automotive history."
Over the next few months, Ford will unveil several other items that feature the Mustang 50 Years logo.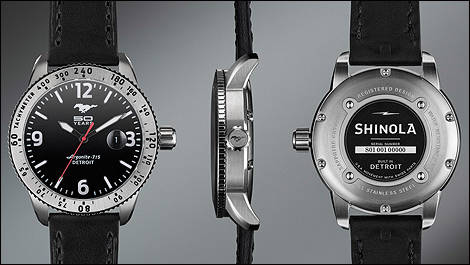 Photo: Ford