July 30th, 2013 marked the
150th anniversary of Henry Ford
's birth. Celebrations were held in Dearborn, Michigan, on what is now known as
Henry Ford Day
, while in Washington D.C., hundreds of people enjoyed commemorative cupcakes delivered by a food truck.
Elsewhere around the world, dealers in 21 Asia Pacific markets have launched Ford Heritage month, transforming showrooms into exhibitions on Ford's rich history. In the U.K., celebrations were capped by the reveal of a restored statue of Henry Ford at the company's Tech Centre. Ford of Germany held a series of 5 road rallies that celebrated Ford's numerous automotive breakthroughs, while more than 4,000 people attended community events held by Ford in Romania.
Festivities will continue with additional events across the United States, Europe, and South America in the coming months.
Henry Ford, who died on April 7th, 1947 at 83 years old, was named "Businessman of the Century" by Forbes in 1999. Last year, a History Channel documentary highlighted him as one of "The Men Who Built America."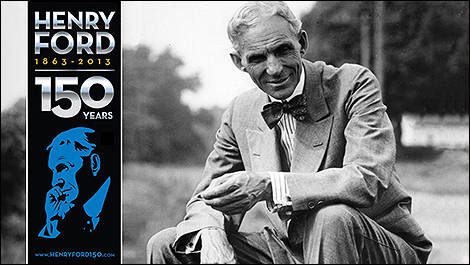 Photo: Ford