Everybody -- and I mean everybody -- wants to live comfortably. A roof over our heads, nice clothes, decent cars and enough disposable income to eat out a few times a week. Of these, the majority would like to have that much more but, sadly, Sunseeker yacht and Armani dreams are out of our grasps.
Or are they?
What we common folk really desire is the lifestyle, the feeling that comes with having nice things. Nice things are attainable, but need not necessarily be new. It is for this very reason that Porsche has an "Approved" program.
In their infinite wisdom, Porsche came up (as have other carmakers) with a factory-backed package where used cars are inspected and given a seal of "approval" as a certified used purchase with a Porsche warranty and 24-hour roadside assistance.
Photo: Olivier Delorme
2010 Porsche 911 Targa 4S
What do all used cars have in common? They're far more affordable than a new car. It is with this in mind that Porsche Canada put a
2010 997 911 Targa 4S
on their press fleet. This Arctic silver 6-speed unit travelled just under 29,000km, but by the looks of it, could have only covered 29.
Back in 2010, this 911 sported a sticker price of just over $143,500 with accessories such as 19" Turbo wheels and the Sport Chrono Package Plus. This same car can now be had for $92,500. This is a 35% price drop that no one needs to know about. All your neighbours will know is that you now own a Porsche.
This may come as a surprise, but Porsche cars are actually fairly reliable (by sports and exotic car standards) and reasonably economical. No word of a lie.
The question that begs an answer is: Does a "gently used Porsche" drive as it should?
In short, yes. The long of it is that I so enjoyed the 3-year-old 911 that I'd never felt like I wanted to own one more. This 911 was every bit as quick, sharp, and infinitely rewarding as would be a new example. The 3.8L flat-6's 385 horsepower were all accounted for and the powerful brakes felt as good as any brand spanking new Porsche I've ever tested.
This car was inspected, as they all are, by Porsche technicians. They follow stringent guidelines to make certain that each 911, Cayman, Boxster, and the like is up to snuff and worthy of being a Porsche Approved Certified Pre-owned car. This one undoubtedly was.
The car was not perfect: One small trim piece surrounding the centre console was loose. Then again, I've had week-long test drives with very new cars from other makes that had many quality control issues.
Porsche holds a special place in the automotive world and regardless of which generation or vintage you own or drive (save perhaps for the 996…), you're a winner. To therefore place any Porsche in your driveway is to be part of a special group. To belong is to be part of and to embrace the lifestyle.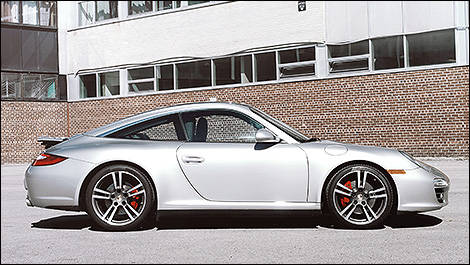 2010 Porsche 911 Targa 4S. (Photo: Olivier Delorme)
Porsche Bike S
On that subject, Porsche has more to offer the budding fan of the brand. As a cycling enthusiast, you may be in the market for a new bicycle. Should this be the case, Porsche has you covered.
This time, new is the way to go. A $5,000 investment gets you a Porsche Bike S made of hydroformed aluminum with a fork fashioned in carbon. A Shimano Alfine 11-speed hub gear system handles forward momentum with the help of a low-wear geared belt drive. Hydraulic disc brakes round out the mechanicals.
As this is a Porsche, its inherent quality is immediately obvious. The same goes for riding the Bike S. The smooth rolling DT Swiss wheel with Schwalbe Marathon Supreme tires and belt drive are its best features. The whole of the way it operates is premium Porsche.
Note for the buttock sensitive: The Fizik Tundra seat is especially short on padding. Should you plan to ride quite a bit, consider the purchase of padded biking shorts.
If your budget permits, a Bike RS is also available. For a little more than $9,000, a lightweight frame with components all made of carbon along with Shimano XTR equipment with 20 speeds can be yours.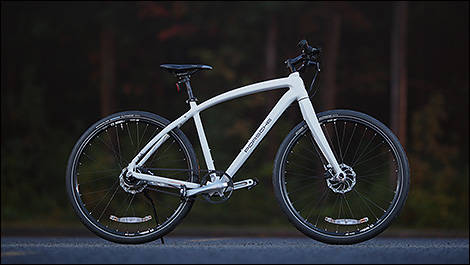 Porsche Design Bike S. (Photo: Philippe Champoux)
The Porsche lifestyle
Yes, it can be yours as the price is right. Life is too short not to enjoy the finer things. With these two sets of wheels, life can be grand indeed!
2010 Porsche 911 4S