2006 Los Angeles Auto Show
A big sedan for 2027
Dec 6, 2006
Suzuki Xbox 360
Dec 5, 2006
Redline, the one and only goal
Dec 5, 2006
Ford
Dec 5, 2006
Chrysler
Dec 5, 2006
Purebred Italians
Dec 4, 2006
BMW unveils 7-passenger X5
Dec 4, 2006
Honda StepBus and Remix
Dec 4, 2006
Acura
Dec 1, 2006
Saturn
Dec 1, 2006
General Motors
Nov 30, 2006
Nissan surprises us with the Altima Coupe!
Nov 30, 2006
LA Auto Show: 100 years
Nov 30, 2006
Tiger Woods unveils the new 2008 Buick Enclave
Nov 29, 2006
Los-Angeles, California
Audi TT Roadster
Making its world premiere, Audi debuted the inevitable two seat, ragtop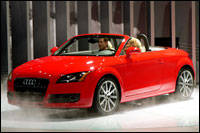 2008 Audi TT Roadster (Photo: John LeBlanc, Auto123.com)
version of the new TT Coupé. Ignoring the current retractable hardtop craze, Audi decided to stick with a cloth top to keep the Roadster's curb weight and centre of gravity low. Longer and wider than its predecessor with more interior room, with extensive use of aluminum in the chassis, the new convertible is only 15 kilograms heavier than the last model; You'll be able to choose from the 200 horsepower 2.0T four or the 250 h.p. 3.2 six when both TTs, Coupé and Roadster go on sale in the spring next year.
Audi R8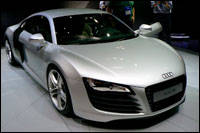 2008 Audi R8 (Photo: John LeBlanc, Auto123.com)
If you're like me, you can't get enough of Audi's much-anticipated two-seat, mid-engine sports car. First seen in Paris, it makes its North American debut here in L.A. On sale in the fall of 2007, the R8 will first come with the RS4's 420 h.p. 4.2-litre vee-eight around US$110,000 to $115,000. Within a year, expect the 5.2-litre vee-ten from the S6 and S8 with close to 500 h.p. A six-speed manual and a version of Lamborghini's E-gear computer-controlled sequential manual will be available.