Mercedes-Benz is one of the busiest automakers at the 2013 Frankfurt Auto Show with as many as six world premieres.
Mercedes-Benz Concept S-Class Coupé
The Concept S-Class Coupé is said to provide a clear vision of the next model generation. A long hood with distinctive lines and powerdomes, a high beltline, 21'' wheels, and LED headlights define the exterior, while the nearly all-white cabin features a dark, contrasting upper dashboard that seems to float above the rest.
Powering the Concept S-Class Coupé is a twin-turbo V8 engine that produces 449 horsepower. Elsewhere, the Intelligent Drive technology uses stereo cameras to create a three-dimensional view of the area up to about 160 feet in front of the vehicle.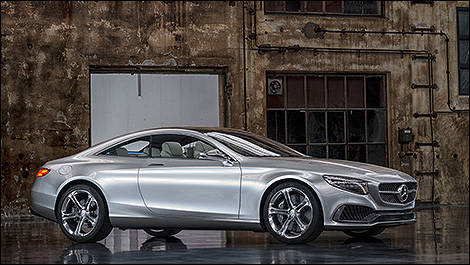 Photo: Mercedes
2014 Mercedes-Benz S63 AMG 4MATIC
Setting new standards in terms of driving dynamics, lightweight construction, and efficiency, the
2014 Mercedes-Benz S63 AMG 4MATIC
will go on sale in the U.S. this November.
Equipped with a 5.5L AMG V8 rated at 557 horsepower, as well as a seven-speed AMG Speedshift MCT transmission, the car is 220 lbs lighter than its predecessor. It also offers a Driver Assistance Package and Night View Assist Plus.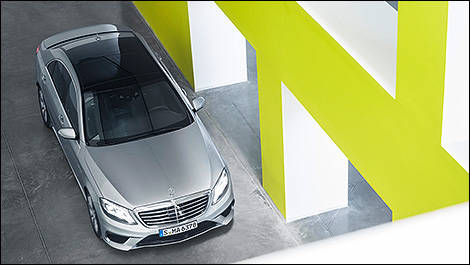 Photo: Mercedes

2015 Mercedes-Benz S500 Plug-in Hybrid
As part of the German automaker's second-generation hybrid drive system, the S500 Plug-in Hybrid combines a 329-horsepower combustion engine with a 107-horsepower electric motor, allowing 0-96 km/h acceleration in 5.4 seconds and a top speed of 249 km/h.
Four hybrid operating modes can be selected at the push of a button: Hybrid, E-Mode, E-Save, and Charge. The new high-voltage lithium-ion battery of the S500 Plug-in Hybrid has ten times the energy content of other hybrid batteries and supplies an all-electric range of nearly 29 kilometres. Look for it to arrive south of the border in late 2014.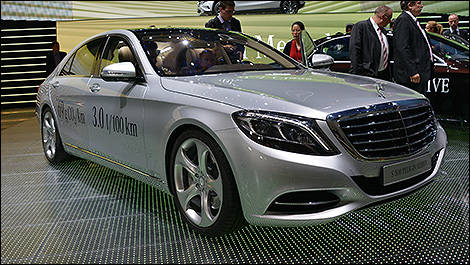 Photo: Mercedes
2014 Mercedes-Benz B-Class Electric Drive
Another car making its world debut in Frankfurt is the
2014 B-Class Electric Drive
, which has an estimated range of about 200 kilometres. A 174-horsepower electric motor propels this Merc from 0-100 km/h in eight seconds, and then to a top speed of 160 km/h. The charging time to get a range of about 100 kilometres will be less than two hours at 240 V.
Set to launch in the U.S. in mid-2014, the B-Class Electric Drive will become the first luxury battery electric car from Mercedes-Benz.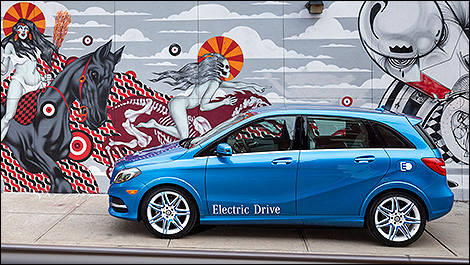 Photo: Mercedes
2015 Mercedes-Benz GLA-Class
Also scheduled to hit the market in mid-2014 is the all-new
2015 Mercedes-Benz GLA-Class 4MATIC
(a base FWD model will follow in early 2015). It will be the brand's smallest SUV and the first to use the next-generation 4MATIC system. Expect a 208-horsepower engine to provide motivation.
Elsewhere, the flat-folding rear seats ensure excellent cargo room and versatility, with a low loading sill and a wide tailgate which can open automatically as an option.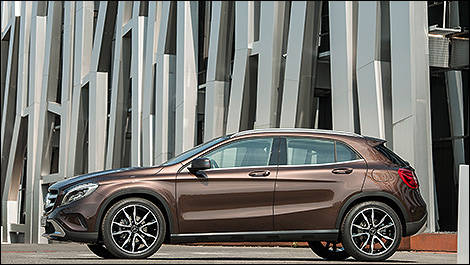 Photo: Mercedes
Smart fourjoy
The sixth world premiere from Mercedes-Benz at the Frankfurt Auto Show is the surprising smart fourjoy. Devoid of doors and rear window, with an open top stretching above, it gives visitors an unhindered view of the futuristic interior. Of course, doors will be part of the package when the production version of this four-seater takes to the streets.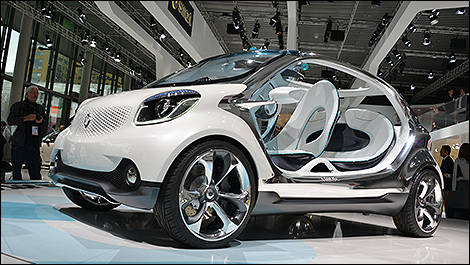 Photo: Mercedes