My favourite concept at the 2012 Los Angeles Auto Show is the Mercedes-Benz Ener-G-Force: a zero-emissions vehicle with zero tolerance for citizen misbehaviour.
The Ener-G-Force is a police vehicle and a fuel-cell vehicle. It's a Mercedes-Benz G-Class underneath, and channels the vibe of a G-Class off-roader circa 1979.
The Ener-G-Force is Mercedes' entry in a design challenge hosted by the auto show where automakers were tasked with envisioning a Highway Patrol Vehicle in the year 2025.
The Ener-G-Force stores rainwater in the tanks on the roof and transfers it to the "hydro-tech convertor," where it's turned into hydrogen for operating the fuel cells.
"Swappable" battery packs are stored in the side skirts. And there is an electric motor at each wheel to deliver four-wheel drive.
A 360-degree topography scanner sends data to the suspension computer which adjusts suspension parameters for maximum traction and ultimate off-road capability.
Many talking heads during the automaker's press days at the L.A. show repeatedly mentioned that there is no silver bullet to green technology, and that they'll have to make green advances on all fronts and on all types of vehicles.
The Mercedes-Benz Ener-G-Force is a great example of non-silver-bullet thinking -- and it's a vehicle that will be carrying bullets!
So, if you're around L.A. in 2025, and thinking of contravening the law in some manner, remember: You'll not want to mess with the "G."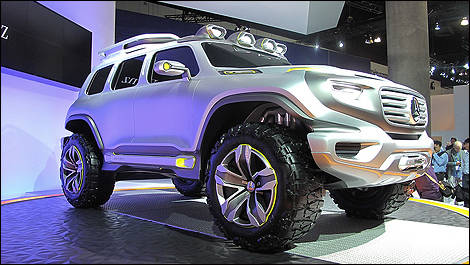 Photo: Mike Goetz