Mercedes-Benz officially revealed the 2012 M-Class, a conservatively-styled midsize crossover offering a trio of more fuel-efficient engines with permanent all-wheel drive, a wide array of electronic gadgets and a bit more passenger room inside a redesigned interior.
As the lone gasoline-powered variant, the ML 350 4Matic BlueEfficiency is motivated by a 3.5-litre V6 engine featuring direct injection. Rated at 306 horsepower and 273 lb-ft of torque, it allows accelerations from 0 to 96 km/h in 7.6 seconds and a top speed of 234 km/h.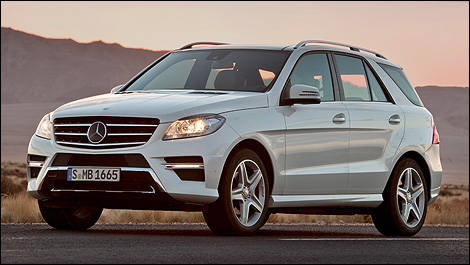 Photo: Mercedes-Benz
Meanwhile, the ML 250 Bluetec 4Matic is powered by a 2.1-litre, four-cylinder turbodiesel that produces 204 horsepower and 369 lb-ft of torque. Based on the European driving cycle, it should burn as little as 6.0 litres of fuel per 100 kilometres.
Finally, the ML 350 Bluetec 4Matic gets a new version of the 3.0-litre V6 turbodiesel, with output hiked from 231 to 258 horsepower and torque from 398 to 457 lb-ft. This slightly-thirstier model will average about 7.0 L/100 km, yet it can sprint from 0 to 96 km/h in 7.4 seconds before reaching a top speed of 223 km/h.
Every 2012 Mercedes-Benz M-Class comes with a 7-speed 7G-Tronic Plus automatic transmission, low-rolling resistance tires and automatic stop/start systems for improved efficiency.
A new On&Off Road package provides six transmission modes to optimally match the vehicle to driving conditions. Available tires and wheels range from 17 to 21 inches in size.
Now revamped, the more spacious cabin offers a choice of four different wood finishes, four different seat materials, two entertainment systems and several high-tech features including Blind Spot Assist and a back-up camera.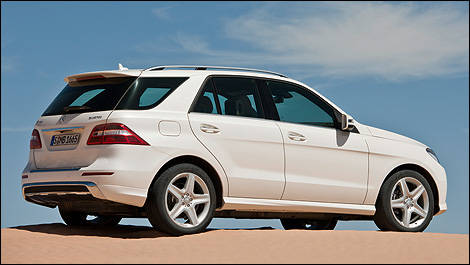 Photo: Mercedes-Benz