Michael Schumacher's first Formula 1 car, the Ford-powered Jordan 191, will be sold to raise money for charity.
Former F1 team owner Eddie Jordan has put two of his most famous cars on sale to raise money for charity.
One of them is the first Jordan Grand Prix car ever built, 191 chassis number 01.
The 191 was the highly significant car driven by Michael Schumacher on his F1 debut at Spa in 1991. This car comes complete with Michael's original signed helmet.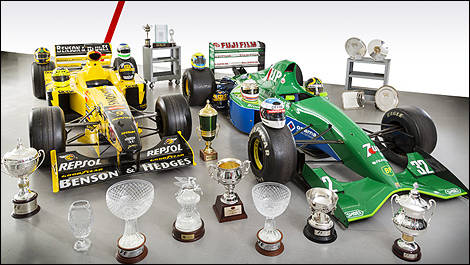 Photo: Cars International
The other car is the first Grand Prix-winning Jordan, the 198 chassis number 03. It was driven to victory by Damon Hill in the 1998 Belgian Grand Prix and, perhaps uniquely, comes complete with the Constructor's World Championship trophy won on that historic day as well as Damon's race suit and helmet.
Eddie Jordan's collection has never previously been offered for sale and also contains a further fourteen significant Driver's and Constructor's World Championship trophies, eight Jordan team drivers' helmets and a selection of other memorabilia.
The cars are being sold privately through
Cars International
who can provide the buyers with an engineering team to service and maintenance the vehicles should the new owner wish to run them at events.