We said a couple of weeks ago that Jeep put their pickup-truck project on the back burner for lack of available funding. Well, today Mopar released details on its JK-8 Kit, which enables owners to transform Wrangler Unlimited into a pickup.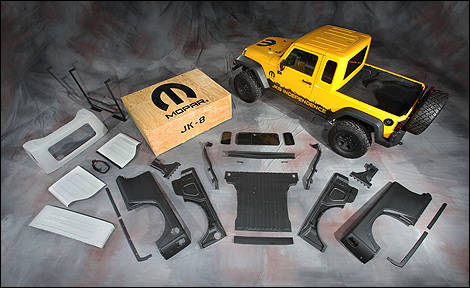 Photo: Chrysler
The kit can be ordered through Chrysler dealerships, and you can either get the job done there or bring it all home and do it yourself. Major components include a steel bed, inner and outer bedsides, sport bar extensions, Freedom panel assemblies, a fibreglass hardtop and a bulkhead. It is all shipped in a Mopar-stamped wooden crate and includes instructions for assembly.
The JK-8 Kit is backed by a 3-year/36,000-mile warranty if the conversion is performed at the dealership. The MSRP for the package is $5,499 USD, and doesn't include labour.
"New Jeep Wrangler owners typically spend more than $500 on Mopar accessories", said Pietro Gorlier, President and CEO of Mopar. "For Jeep Wrangler Unlimited owners, our new Mopar JK-8 kit answers the call for even more radical customization. And it's yet another example of how Mopar will continue to support our brands with innovative features".