Jeep has made a habit of introducing all sorts of concepts and special vehicles during its annual week-long Easter safari held in Utah. The 51st edition, taking place from April 8-16, will be no exception.
"It's truly a labor of love for the Jeep team to develop exciting, capable concept vehicles each year for Moab and the Easter Jeep Safari," said Mike Manley, Head of Jeep Brand – FCA Global. "We look forward to the reaction and feedback from enthusiasts and our most loyal customers as these new Jeep concepts are put through their paces on the trails in Moab."
Here are the concepts debuting at the 2017 Easter Jeep Safari 2017:
The Jeep Grand One celebrates the 25th anniversary of the 1993 Grand Cherokee ZJ 1993.
The Jeep Safari offers optimal visibility for every occupant while protecting them from the elements.
The Jeep Quicksand is a hot rod-inspired Wrangler designed to tackle sand dunes.
The Jeep Trailpass is a Compass Trailhawk rendered even more practical and featuring more cargo space.
The Jeep Switchback promises enhanced performance thanks to a 4" lift kit, Dana 44 axles and 37" tires.
The Jeep CJ66, first launched at SEMA in 2016, combines elements of three generations (CJ, JK, TJ) and houses a 383-hp HEMI V8.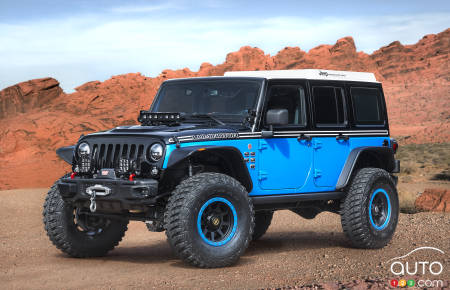 The Jeep Luminator can boast of having the ultimate lighting system available to tackle any trail.