Gearhead procrastinators, listen up. Mother's Day is fast approaching – and you've probably got no idea what to get yours.
Since you likely spent the early years of your life tossing Cheerios, crayons and fries all over the interior of moms car, we've put together a list of ideas to redeem yourself – and help mom get the most out of her car and her time with it.
They're even arranged by price for easy matching to your budget.

$0 to $50:
Two hours should suffice to wash, polish, shine, tidy and protect mom's car, inside and out. You can do it all for under fifty bucks – even if you have to pick up a new wash mitt, some Armor All, and a six-pack to enjoy during the cleaning procedures. And remember: giving mom 'neat and tidy' without her lifting a finger is as priceless as gifts get.
Other cheap gift ideas include a peel-and-stick 'stick family' for her rear window, a clip-on miniature flower vase, or a portable, plug-in travel mug to keep her beverages warm.
$50 to $300:
Petro-Canada offers a 'Season Pass' to their drive-thru car washes for about 200 bucks that'll let mom visit the drive-thru wash every day for 3 months. This gift will help her stay classy at the wheel all spring and summer.
Mom rockin' an older ride? Consider a new audio deck with Bluetooth compatibility for her Smartphone. Install the deck and pair her Smartphone to it for maximum brownie points.
About $120 will get mom an all-in, one-year subscription to
Slacker Radio
– giving her a custom, personalized radio station she can access through her Smartphone in the car via Bluetooth streaming, at home on her iPad or anywhere else there's an internet connection.
For a more stylish idea, check out some jewellery and accessories. And not just any jewellery and accessories – Maserati jewellery and accessories! If you can't afford that new GranTurismo Mom's always wanted, perhaps a Maserati-branded scarf, silver necklace, tote bag or purse would give her a welcomed taste of the celebrated brand's passion for style and sophistication. Jewellery, accessories and clothing options are available from
Maserati's online store
.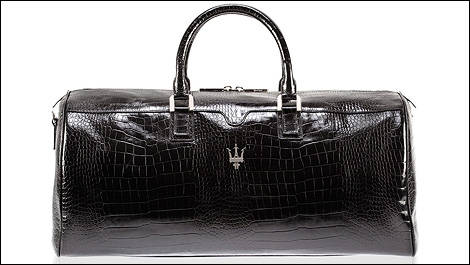 Photo: Maserati
$300 to $2000:
Spending a grand or two alone, or between a few siblings, opens the door on a whole slew of fantastic car-related Mother's Day gifts. Custom wheel and tire packages, body kits, a giant stereo, in-car entertainment consoles and the like are all available in this price range.
Thinking of a high-speed bonding activity? Your favourite premium automaker likely offers performance driving schools in this price range, too. Look for some from BMW, Mercedes-Benz, Porsche, and others.
Money no Object:
Need a gift to make up for years of terrible misbehaving and nincompoopery? Money no object? Get mom that shiny new Infiniti she's always wanted.
And even if she's never wanted a new Infiniti, she will-- the moment she lays eyes on the new
2013 IPL G Convertible
.
It's got 343 horsepower, a power-folding roof, and will make all her friends jealous. Plus, with actual rear seats and a comfortable but sporty ride, said jealous friends can come along on a road trip. Get back in mom's good books, and she may even let you drive it.
Photo: Infiniti