Detroit -
While Toyota, MINI and smart were gloating about their future electric vehicles, offering non-pollution gas-free freedom, one manufacturer - a rather tiny one too - actually allowed North American International Auto Show (NAIAS) attendees to drive one that is already available on the market : Myers' NmG.
The Myers NmG electric single seater may be sold on the Canadian market.
The name says it all. The letters NmG stand for : No More Gas. This single seated is built by Myers Motors of Tallmadge, Ohio, a last minute entry at this year's NAIAS.
The NmG is an all-electric, highway-legal, fully enclosed vehicle with a maximum speed of 120 km/h. Current models have an autonomy of 40 to 50 kilometers.It costs 29,995 US.
This microcar has two front wheels and a single rear drive wheel. It also has a tiny trunk, called the "pizza box" by the manufacturer's people!
"The NmG fits the way Americans use their cars," Dana Myers, president of Myers Motors said. "Research shows that 87 percent of all commutes are less than 30 kilometers and 93 percent of those commutes are with only one person in the vehicle."
Moreover, according to Myers Motors 60 percent of households that have two or more vehicles devote one of those cars to just one person's day-to-day travel
Two ways to recharge
The NmG has thirteen lead acid 12-volt batteries. Six are located under the hood and seven under the driver's seat.
According to the manufacturer, with a 220-volt service and the optional fast charging system, recharging to 95 percent full can be accomplished in 30 to 45 minutes. For those who prefer a 110 volt, 20 amp service outlet, if batteries are 80 percent discharged, recharging will take 6 to 8 hours.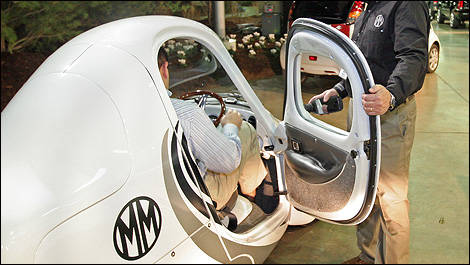 A single door on the right side (the sidewalk side) gives access to a rather tight interior.