With battery-electric vehicles becoming more and more popular, it's important not to forget that every conventional gasoline powered vehicle also uses a battery. The battery is a critical part of the vehicle and allows the engine to start when you turn a key or press a button.
If you keep your cars less than a few years you won't ever likely need to change the battery. The life-cycle of a standard automotive battery is usually around six years but some can last much longer than that. If the battery is allowed to completely drain for extended periods of time then it's possible its life can be shortened dramatically.
If you need a new battery, by far the easiest way to obtain one is by ordering though the NAPA Auto Parts website. Batteries are available for your car, truck, boat, RV, motorcycle and even your snowmobile via the battery selector feature.
NAPA Auto Parts are experts when it comes to batteries. Whether you are looking for a classic battery for a North American or imported car, SUV or truck, an AGM battery any other type, NAPA will help you will find the right battery for your vehicle. Even batteries used on heavy vehicles or agricultural equipment are available.
To get a battery for your car or truck you just need to follow these simple steps:
1. Using the online battery selector, find the battery that matches the make and model of your vehicle.
2. Make a reservation for the battery online.
3. Go to your nearest NAPA Auto Parts store to pay for and pick up the battery.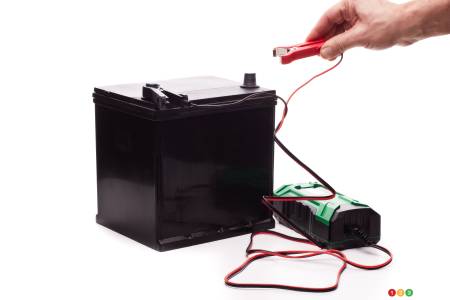 The NAPA Auto Parts website is designed to be very user friendly, enabling customers to find what they need very quickly. Whether you are a business owner or an individual do-it-yourselfer, the website will make the transaction easy and smooth. Once the items are reserved on the website, you'll be directed to the store finder in order to choose the location nearest you. Most parts will be ready for pickup in under two hours, however specialty items may take a bit longer.
There are easy steps to take in order to avoid battery failures. Keeping a set of booster cables in your vehicle is an obvious first step. A good battery charger can also be used to ensure the battery is full and delivers peak performance. This is important in the case of poor weather to avoid getting caught with a dead battery. If this should occur then a booster pack or the afore-mentioned cables will do the trick but only the booster pack will work on its own without another vehicle present to provide the needed charge. They are also compact and can be stored in the trunk of the vehicle.
No matter how careful and meticulous you are in caring for the battery, eventually it will need to be replaced. A common sign that a battery is near the end of its life is if the vehicle has trouble starting. If you notice this (especially in warm weather) then it could mean it's time to shop for a new battery. More often than not, the vehicle will have a warning light illuminate on the dash if the battery is dying.
Extra care needs to be taken for pleasure vehicle which are stored during part of the year. It's essential to keep the battery on a low charge using a trickle charger otherwise the battery life can be greatly reduced.
Most people know that very cold weather can reduce battery performance however the same can be said for hot weather. It's possible that the fluid inside the battery can evaporate and the battery will fail to hold a charge.
The disposing of old batteries is very important because they contain harmful chemicals. Batteries can explode and spray this liquid onto sanitary workers if simply thrown in the garbage so please ensure that you bring old batteries to your local garage for recycling.
You may find these excellent brands on our shelves in a NAPA store in your area: Clore Automotive Booster PACs, Carlyle Booster Packs and UltraPro Portable Power Supplies. Whatever the amperage that your truck, RV or motorcycle requires, we have a charging solution that suits it.
NAPA and CMAX stores have over 500,000 tools, pieces of equipment or replacement items for the individualist, dealer or professional garage. In most cases it's possible to obtain just about any item in 30 minutes or less. NAPA also offers expert advice to answer any question in addition to discount programs, training programs and leasing and financing options for equipment. If you like to attempt basic repairs at home such as replace headlight bulbs, change your oil and filter, change your spark plugs, change your car starter and much more, our online blog is also a handy tool to get the job done.
NAPA is the largest automotive parts retailer in the world and has over 90 years of operating experience. The chain's 600 auto parts stores across Canada mean there is almost certainly one near you. NAPA also has 6000 stores operating south of the border across the United States where the reputation for quality parts and knowledgeable sales people is unsurpassed.