From press release
Alex Tagliani, who was pulling double duty with a 10 a.m. start in the NASCAR Canadian Tire Series (NCATS) Pinty's presents The Clarington 200, followed by a 2:00 p.m. start from the pole in the The 2nd Annual Chevrolet Silverado 250, Round 14 of 22 of the NASCAR Camping World Truck Series (NCWTS), was unable to catch a break in either race this Sunday. All the action took place at the 3.957-kilometre, 10-turn road course Canadian Tire Motorsport Park (CTMP) track, located north of Bowmanville, Ontario.
In the morning race, mechanical problems in the early going hampered the No 18 EpiPen/Dicom Express/Sennheiser/CanTorque Dodge Challenger of Tagliani Autosport in The Pinty's presents The Clarington 200, a 51-lap, 201.8-kilometre NASCAR Canadian Tire Series race. Tag pitted on lap 10 to fix a faulty power steering leak and by lap 18, he was one lap down on the leaders in 23rd position. A few more pit stops to try and fix the problem put him down another lap, placing him this time 30th overall on lap 18. Tagliani soldiered on and gained 11 positions in the last 20 laps to finish 20th in Round 9 of 11 of the 2014 race schedule.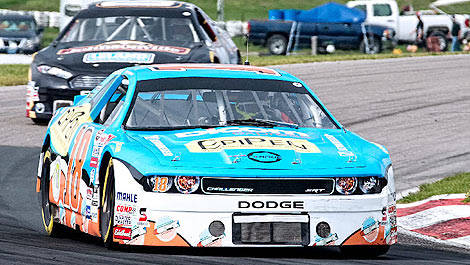 Photo: Tagliani Autosport
J.R. Fitzpatrick, of Ayr, Ontario won his second consecutive CTMP race of the season, his first was last May at the NCATS season opener. J.R. took the lead on lap 34 to drive to his 10th series win, chased by Jeff Lapcevich of Grimsby, Ontario. Third place went to rookie Marc-Antoine Camirand of Saint-Léonard-d'Aston, Quebec, followed by Louis-Philippe Dumoulin of Trois-Rivières (QC). With his fourth place finish, Dumoulin still leads the point standings 378 to 359 ahead of Fitzpatrick who, with his win, shaved seven points off Dumoulin's lead. Scott Steckly of Milverton, Ontario rounds up to top five.
NASCAR Truck Series Race Report

Pole winner of The 2nd Annual Chevrolet Silverado 250, a 64-lap, 253.3-kilometre NASCAR Camping World Truck Series race scheduled to start at 2:00 p.m., Tagliani jumped off to a great start leading the first seven laps. Brad Keselowski Racing Team strategy had him pit early at the end of lap seven in order to be in a strong position at the end of the race. Unfortunately, a lug nut problem with one of the rear wheels of the No. 19 Ford F-150 Reece Towpower truck sent the Canadian driver down to 21st spot.
Slowly but surely, Tagliani climbed back the ladder up to fourth place and on the last restart on lap 54, he spun around, stalling the truck and loosing a lap in the process. He finished 16th overall. A small consolation prize for Tagliani was his Keselowski Racing teammate Ryan Blaney's win as he held off German Quiroga Jr. to become the 11th NCWTS race winner of the season. Erik Jones finished third ahead of Gray Gaulding and Andrew Ranger of Roxton Pond, Quebec.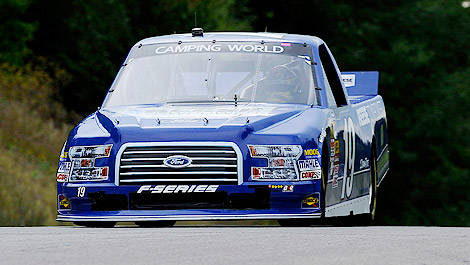 Photo: Tagliani Autosport
"It is kind of a sad ending in both races," Tagliani said. "The truck race was a one of a kind opportunity where it was going to be our day as it was so fast. Unfortunately, the throttle pedal kept sticking and it was giving me a hard time. I had to lift it every time with my right foot. We need to catch a break and win one of those races. In the Canadian Tire Series event, the car suffered a power steering failure from the start and we had to make multiple pit stops to add oil as the steering wheel kept jamming. It's too bad because both vehicles were strong. Adding to our misery, we blew the engine on our EpiPen Dodge at the end of our first practice, so we missed the second session. We must turn the page and move on."