From press release
Tagliani Autosport and popular Canadian IndyCar/NASCAR and SportsCar racer, race winner and Indianapolis 500 pole sitter Alex Tagliani, and three-time and defending NASCAR Canadian Tire Series champion Scott Steckly, announced an alliance for Tagliani to drive a 22 Racing prepared Dodge Challenger in a return to the Series for the 2014 season.
A long tradition of excellence in preparation, presentation and performance is what brought 22 Racing, Driven Motorsport and Tagliani Autosport together to strike up the partnership to drive the Tagliani Autosport/Team EpiPen/Dicom Express No. 18.
"I'm very excited to have Alex drive out of our 22 Racing stable this season," stated team owner/driver Scott Steckly.
"Tag is a proven professional that will make our team even better with his passion and grit to be the best at what he does. He will bring another level of competition to the Series, so that means we will all have to race harder for wins and the championship with Alex out there," Steckly continued.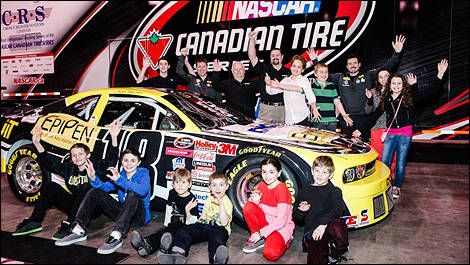 Alex Tagliani at the Canadian Motorsports Expo (Photo: Pfizer Canada)
"I have long respected Scott Steckly's racing operation and their high degree of success in The NASCAR Canadian Tire Series," Tagliani boasted.
"They are so professional as a team working with their sponsors. I cannot think of a better partnership to create a lasting bond in this series to provide the best service and effort possible for our sponsors and partners going forward. I am very excited with this new alliance, "Tagliani added.
"Alex and Tagliani Autosport are going to be a tremendous addition to our team as we prepare for a long term relationship," offered Linda Jones, President, Driven Motorsport Innovations. "Alex is a consummate professional, aiming for the top in everything he does. As a group, we plan to roll out some exciting activation programs for our partners this season," Jones added.