Hendrick Motorsports driver Jeff Gordon will be making his 750th consecutive Cup start, Sunday night during the Oral-B USA 500, at Atlanta Motor Speedway.
"That's a big number," admits the four-time champion. "It's been an amazing career in the Cup Series."
Fittingly, start No. 750 brings Gordon full circle as Atlanta was also the scene of the 43-year-old first start in the series.
Gordon thinks he has been able to enter so many races in a row because, throughout his career, he has always been at the right place at the right moment.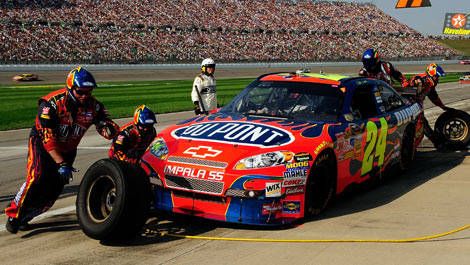 Jeff Gordon at Kansas City Speedway in 2008 (Photo: Rusty Jarrett/Getty Images for NASCAR)
"I got very fortunate that I got a very young start as well as I got a chance to start with one of the best teams and team owners out there in Hendrick Motorsports and Rick Hendrick.
"It's just good things happening at the right moments, meeting the right people and getting here at a young age and good genes, too."
And it's actually quite the feat. Matt Kenseth, who is just behind Gordon in the all-time standings for consecutive starts, is "only" at 526.
It would take the 42-year-old six seasons to catch up.