From press release
Andrew Ranger has plenty of mastery on road-courses. The two-time champion of the NASCAR Canadian Tire Series proved once again he can figure it out on an oval, too.
He showed that Friday night as he picked up the win in the Alberta Has Energy 300 in the inaugural event at Edmonton International Raceway.
Ranger tied the series' all-time record with his 19th career win, and won back-to-back races for the first time since August 2009 following his victory on the road course at Circuit ICAR in Quebec last week. It was also his first oval win since 2009, and fourth overall.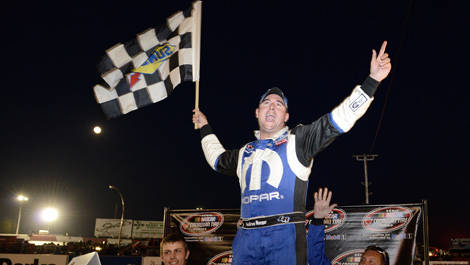 Andrew Ranger celebrates his 19th career win, at the Edmonton oval (Photo: Matthew Murnaghan, Getty Images for NASCAR)
"At the beginning of the day we didn't have a really good car, so we improved lap after lap," Ranger said "During the race my car was really fantastic."
The race was stretched to 316 laps around the quarter-mile bullring following a late caution that involved early race leader Alex Tagliani, and required Ranger, who took the lead on Lap 269, to hold off LP Dumoulin and Jason Hathaway on the final restart.
"The pass with Alex [Tagliani] was a little bit tough because it was almost one [racing] line here," Ranger said. "He did a little mistake and I was able to take him in [Turn] 3."
Dumoulin and Hathaway waged a battle throughout the last two laps of the race for second and Dumoulin came out ahead, followed by Hathaway, J.R. Fitzpatrick and D.J. Kennington.
Joey McColm, Larry Jackson, Scott Steckly, rookie Stefan Rzadzinski and Noel Dowler completed the top 10.
Fitzpatrick, Kennington and Steckly were all two laps down at different points during the race and rallied back for top-10 finishes.
Tagliani, who won the pole position for the race earlier in the day, finished 13th. He led a career-high 268 laps.