Two-time NASCAR Canadian Tire Series' champion Andrew Ranger won for the third time in his career the GP3R 100 in the streets of Trois Rivieres Sunday in one exciting race.
Moreover,
polesitter
Ranger had to battle his way back to the front after he was involved in an incident early on with JR Fitzpatrick.
On lap 3, JR Fitzpatrick tried to squeezed by Ranger but missed his braking point and pushed Ranger straight into the tire wall. Fitzpatrick quickly recovered and led the race while Ranger lost some seven places while trying to get his Dodge out of the tires.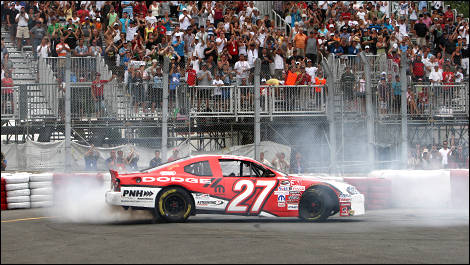 Amdrew Ranger (photo: Philippe Champoux/Auto123.com)
Inch by inch, Ranger was able to fight back and was already back in third by Lap 19 and back into the lead by Lap 25 when he made it three wide passing Fitzpatrick and Kerry Micks for the lead.
It was after another full course yellow that Ranger powered by the two first cars and slipped into the lead to the delight of thousands of fans!
Ranger enjoyed a comfortable lead until Maryeve Dufault spun on Lap 35, setting up a green-white-checkered finish.
Ranger, his lead reduced to zero, was able to stay out front regardless and keep Micks behind him for his second NCATS victory of the year and fourth road course win of 2010.
Fitzpatrick followed in third with current points leader DJ Kennington fourth and Jeff Lapcevich fifth.
With his win in Trois Rivieres, Ranger has now an unprecedented 10 wins and 17 podium finishes in his 18 road-course starts in NASCAR including his third-place effort last season in Montreal in the NASCAR Nationwide Series.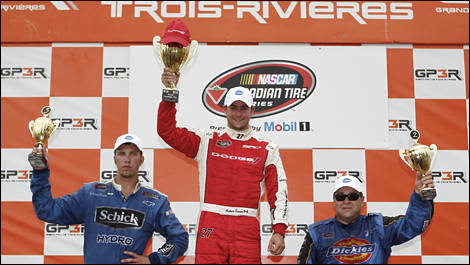 (photo: Philippe Champoux/Auto123.com)