Two-time NASCAR Canadian Tire Series' champion
Andrew Ranger
picked up his third pole of the season and his first one ever at Circuit de Trois-Rivieres in preparation for tomorrow's running of the GP3R 100.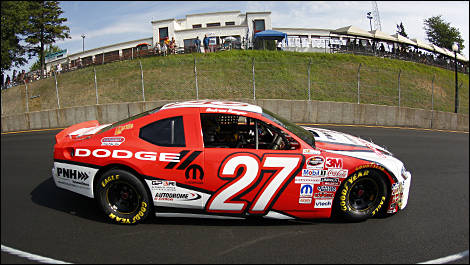 Andrew Ranger (photo: Philippe Champoux/Auto123.com)
Ranger, who is also running in the K&N East Series this year, is only making his fourth start of the season in the NCTS. The young Quebecker won the pole driving his No. 27 Dodge Dealers of Quebec Dodge with a fast time of 68.291 seconds (80.655 mph).
Once again, JR Fiztpatrick prooved that he will be a contender as he ended-up second with a time of 68.533 seconds (80.370 mph) while Kerry Micks finished third at 68.681 seconds.
Anthony Simone, who was fastest at the end of practice earlier in the day, was fourth and Jason Hathaway completed the top-five in qualifying.
Don Thomson Jr. was sixth with current points leader D.J. Kennington starting seventh. Scott Stecklt, Ron Beauchamp Jr. and Louis-Philippe Dumoulin rounded out the top-10.
The GP3R 100's green flag is scheduled for Sunday at 3:30 p.m. ET.
NCTS Qualifying - GP3R Trois Rivieres
Pos. Driver Car Time Speed
1. Andrew Ranger Dodge 68.291 80.655
2. JR Fitzpatrick Chevrolet 68.533 80.37
3. Kerry Micks Ford 68.681 80.197
4. Anthony Simone Chevrolet 68.719 80.153
5. Jason Hathaway Dodge 69.084 79.729
6. Don Thomson Jr Chevrolet 69.139 79.666
7. DJ Kennington Dodge 69.155 79.647
8. Scott Steckly Dodge 69.384 79.384
9. Ron Beauchamp, Jr. Dodge 69.517 79.232
10. L.P. Dumoulin Dodge 69.585 79.155
11. Mark Dilley Dodge 69.602 79.136
12. Trevor Seibert Dodge 69.652 79.079
13. Jeff Lapcevich Chevrolet 69.684 79.043
14. J.F. Dumoulin Chevrolet 69.695 79.03
15. Peter Klutt, Chevrolet 69.82 78.889
16. John Farano Chevrolet 70.032 78.65
17. Brad Graham Ford 71.045 77.528
18.Jarrad Whissell Ford 71.105 77.463
19. Joey McColm Dodge 71.788 76.726
20. Jason White, Chevrolet 71.846 76.664
21. Dexter Stacey Chevrolet 71.862 76.647
22. Pierre Bourque Dodge 72.133 76.359
23. Derek White, Dodge 72.214 76.273
24. Howie Scannell, Jr Dodge 72.228 76.259
25. Patrice Brisebois Chevrolet 72.458 76.016
26. Francois Bellemare Ford 73.082 75.367
27. Maryeve Dufault Dodge 73.296 75.147
28. Isabelle Tremblay Dodge No Time