A homecoming of sorts provided a ray of sunshine for Denny Hamlin who won the pole in Martinsville.
The Virginia native, who was sidelined for four races earlier this year due to a back injury, beat the track record set by Jimmie Johnson earlier year with a lap of 99.595 mph, beating Johnson by .048 second. This was Hamlin's fifth pole of the year another anomaly in an otherwise disappointing year.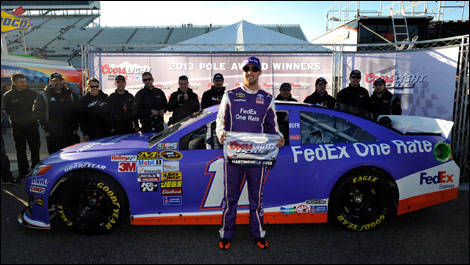 Photo: Rainier Ehrhardt/Getty Images
"I'm real proud of the effort -- I think it's my best ever start (here) so whether it's second or third, maybe there's an asterisk that goes next to it, but it's fun to qualify well here," Hamlin said.
"It's also so demanding. You've got to hit everything just right in order to qualify up front here and this is probably the best time I've ever hit it right and I was just a little bit short. Not too bad, more to do tomorrow and I'm looking forward to Sunday."
"If we get a win, by no means will it fix or make us feel good about our year, but it will give us something to smile about in the future," said Hamlin, who added, confidently to reporters "See you Sunday night" after his pole-winning news conference meaning he expected to be back in Victory Lane.
"It will make me appreciate that moment that much more because it's been such a struggle," said Hamlin meaning this year.
"Not only just the back stuff, but when you lose that edge of being at the top of your sport, it's making you fight that much harder to get back to the top. The moment in which we become our old race team that we've been for the last seven and a half years, and we start winning races again … it will be overwhelming.
While Hamlin has four wins at the paper clip shaped half-mile Johnson has eight wins, the last one coming, from the pole in Martinsville at the April race.
And Johnson appears to be surrounded by Joe Gibbs Racing drivers including Kyle Busch, who starts third and his closest rival in the Chase for the NASCAR Sprint Cup, Matt Kenseth who will start fourth.
When Johnson was asked if that green lag start makes him nervous he replied "No," adding "Maybe I should be, but not as of now. We will all race hard I'm sure. We have all been, at least so far, have been a lot of situations with each driver and been able to race hard and take it right to the line, but not cross it."
Johnson and Busch actually tied in qualifying at 99.344 mph, but Johnson was awarded the second spot based on the owner points tiebreaker, moving Busch to the third spot with Kenseth alongside.
And just to make things a little better Hamlin also took the pole for Saturday's truck race.