Here is the official entry list for the first ever Chevrolet Silverado 250, the only Canadian round of the NASCAR Camping World truck series and the first to be held on a road course for a long time.
A handful of NASCAR Camping World Truck Series drivers will be double-dipping this weekend, all in an effort to gain more track time ahead of the inaugural race at Canadian Tire Motorsports Park.
Championship contenders Jeb Burton, Ty Dillon and defending series champ James Buescher are also entered in the NASCAR Canadian Tire Series event, to be run Sunday morning.
Chad Hackenbracht, making his third career truck start for Kyle Busch Motorsports, is also in the Canadian Tire Series field.
On the flip side, two NASCAR Canadian Tire Series drivers will attempt to make their truck series debut at the Bowmanville, Ontario track.
Martin Roy, who failed to qualify for the NASCAR Nationwide Series' race at Bristol Motor Speedway last weekend, will compete in a James Carter-owned Chevrolet.
Alex Guenette, a 17-year-old Quebec native and the series' top rookie, will drive the No. 39 Chevy for team owner Susan Bates.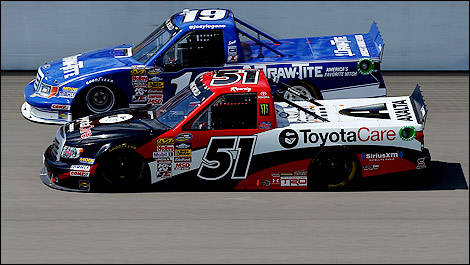 Photo: Getty Images for NASCAR
Entry list NASCAR Camping World truck series at Canadian Tire Motorsport Park, Ontario

No.  Driver  Home town  Truck and sponsor

0 Chris Lafferty  Concord, North Carolina Ford KOMA Unwind
3 Ty Dillon  Welcome, North Carolina Chevrolet Bass Pro Shops - Tracker Boats
4 Jeb Burton  Halifax, Virginia Chevrolet Arrowhead
6 Mike Skeen  Portsmouth, Virginia Chevrolet Hawk Performance
7 John Wes  Townley Watkinsville, Georgia Toyota Zaxby's
07 Carl Long  Roxboro, North Carolina Toyota TBA
8 Max Gresham  Milner, Georgia Chevrolet Amwins
9 Ron Hornaday Jr  Palmdale, California Chevrolet NTS Motorsports
10 Jennifer Jo Cobb  Kansas City, Kansas RAM Kona Unwind
14 Max Papis  Como, Italy Chevrolet Sport Clips Joe Denette
17 Timothy Peters  Providence, North Carolina Toyota Parts Plus
18 Joey Coulter  Miami Springs, Florida Toyota Monster Energy
19 Ross Chastain  Alva, Florida Ford ReeseTowpower/PartsSource
24 Brennan Newberry  Bakersfield, California Chevrolet Qore-24
29 Ryan Blaney  High Point, North Carolina Ford Cooper Standard
31 James Buescher  Plano, Texas Chevrolet Motomaster Eliminator
32 Miguel Paludo  Nova Prata, Brazil Chevrolet Duroline Brakes
39 Alex Guenette  Montreal, Canada Chevrolet MI IUIMITEES Motorsports
51 Chad Hackenbracht  New Philadelphia, Ohio Toyota Tastee Apple / Ingersoll Rand
54 Darrell Wallace Jr  Mobile, Alabama Toyota Camping World / Good Sam
57 Norm Benning  Level Green, Pennsylvania Chevrolet Norm Benning Racing
60 Dakoda Armstrong  New Castle, Indiana Chevrolet Winfield
62 Brendan Gaughan  Las Vegas, Nevada Chevrolet South Point Hotel & Casino
72 Martin Roy  Napierville, Canada Chevrolet TBA
77 German Quiroga Jr  Mexico City, Mexico Toyota Otter Box
81 Derek White  Kahnawake, Canada Toyota VIP Poker
88 Matt Crafton  Tulare, California Toyota Ideal Door-Menards
94 Chase Elliott  Dawsonville, Georgia Chevrolet Aaron's Dream Machine / Hendrickcars.com
98 Johnny Sauter  Necedah, Wisconsin Toyota Carolina Nut Co. / Curb Records
99 Bryan Silas  Stuart, Florida Ford Bell Trucks America, Inc.