Going into NASCAR's playoff, the Chase for the Sprint Cup last year, Matt Kenseth had five victories and thought he had a legitimate shot for his second championship.
This year, under a new set of rules that favors race winners, Kenseth is winless after 24 of the first 26 races. But he's not worried.
Kenseth spoke with the media, at his Joe Gibbs Racing shop, to promote the launch of a four-part series co-written with his wife Katie which covers children's books to "educate and empower children if faced with bullying situations."
Saturday night in Bristol the 42-year old Wisconsin native finished third tying his best finish of the year. This was a far cry from his 2013 season - his first at JGR.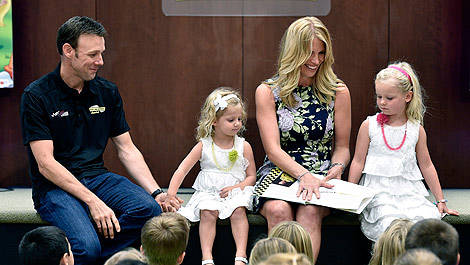 Matt Kenseth, Clara Mae, Grace Katherine, Katie Kenseth. (Photo: JGR/NK Photography)
Despite the lack of victories, which would make him a lock for the Chase under the new system which guarantees one win gets a driver into the first of ten races, he's not worried. That's likely because he can still qualify on points and he has a comfortable 41-point lead over Ryan Newman (the next winless driver in points) with three races remaining in the season.
"I feel like we're closer," Kenseth said.
In the off-season NASCAR made a series of technical changes to improve the competition to make passing easier and eliminate the dreaded "aero push."
"It doesn't have a simple answer," the 2003 champion said " if we knew that we would have addressed it at race three." As he continued " last year we finished strong. Got the new rules package and we didn't run that good. When we got the new rules," his team had some issues as early as the first test. But with things like "the spoiler change, the splitter change, the pan change and the ride height change" his team didn't adjust as quickly with the others.
"As good as last year was I never thought I'd be in race 24 without a win."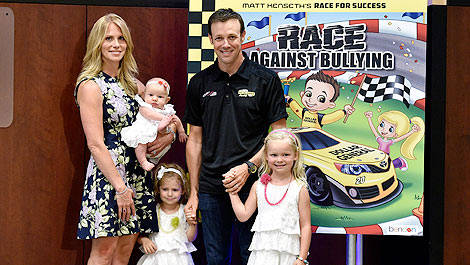 Katie Kenseth holding Clara Mae, Grace Katherine (standing), Matt Kenseth and Kaylin. (Photo: JGR/NK Photography)
After a third place at Bristol it's not hat I'm not confident. Last year going into the Chase just off the performance I felt like I could beat everybody. We had five wins before the Chase started. But Jimmie just beat us on the last ten.
"Obviously we don't have the stats and numbers," (this year)," he added but "that's not going to say we won't have it right in the ten. We just haven't been as dominant as we were."
Speaking about the books "As a parent of three small children, it's natural to worry about the issues they will face while growing up," Kenseth said. "Both Katie and I believe that openly talking about these issues is the best way to prepare them. This book is designed to help families discuss the effects of bullying with their kids. We believe it's important our kids not only know how to deal with a bully, but also understand that it's not OK to act like one."