Scott Steckly was back once again on the higher step of the podium, having won his third NASCAR Canadian Tire Series race in-a-row this time by winning the National 250 at Autodrome St. Eustache.
Steckly did win in the end but he had to battle it out with J.R. Fitzpatrick as the two exchanged the lead four times over the final 65 laps of the race. However, a spin on Lap 243 by Fitzpatrick in Turn 4 settle the issue in favor of Steckly driving the No. 22 Canadian Tire/Sylvania Dodge.
It was Steckly's third consecutive NASCAR Canadian Tire Series presented by Mobil 1 victory and the 14th of his series career. Additionally, it was his third win in five starts on the .4-mile Quebec oval.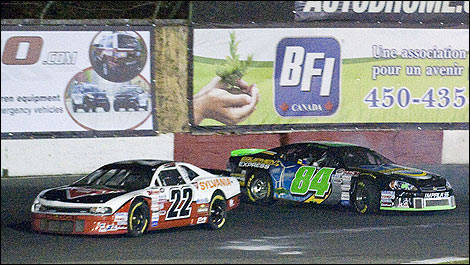 Photo: NASCAR
Rookie Alex Guenette crossed the line in the second position for his best finish of the season and now has top-10 finishes in three of his last four starts. Fitzpatrick still managed to finish third.
Polesitter Ron Beauchamp Jr. finished fourth in front of Jason White.
Louis-Philippe Dumoulin, Martin Roy, Trevor Seibert, Dave Connelly and Noel Dowler completed the top 10.
With the victory, Steckly took the lead in the championship standings from Kennington, who finished the race in 16th after battling mechanical problems early in the race. Steckly now holds a 10-point advantage over Dumoulin and has a 15-point edge on Kennington.
The NASCAR Canadian Tire Sires presented by Mobil 1 is next on track on Sunday, August 11 for the JuliaWine.com 100 in the Grand Prix de Trois-Rivieres (Que.).