Performance, speed, displacement, wheels... Whatever strikes a chord in you, it's all part of the giant web that defines the automotive world. Auto123.com leaves no string and no layer untouched, helping you see things more clearly and catch up on all the buzz. Aren't you glad you have us?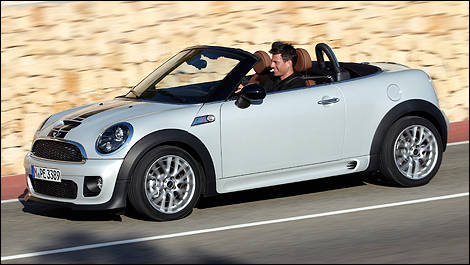 2012 MINI Cooper Roadster (Photo: BMW)
Here's what you can look for next week:
Reviews of the 2012 Nissan Versa 1.6 SV and 2012 Dodge Grand Caravan;
Our first impressions of the 2013 Ford Police Interceptor, 2012 MINI Cooper Roadster, and 2013 Dodge Dart;
A feature on the king of custom wheels, Fastco;
Tips on how to make your very own car videos using an iPhone;
Canadian car sales for the month of April;
Our blogs, news, and other cool content.
Coming soon:
Our first test drives of the 2013 Subaru BRZ and 2013 Nissan Altima;
Our first impressions of the 2013 Mercedes-Benz GLK-Class and G-Class;
Seat time in the 2013 Porsche Boxster and 2013 Cadillac XTS.
Have a good time reading, and be safe on the road!