As reported by Nissan Canada
Nissan Canada Inc. today announced pricing on the 2012 Nissan GT-R Black Edition, now available at GT-R Certified Nissan dealers across Canada.
The 2012 Nissan GT-R has a new look, new colours, new wheel design and, most important to fans of pure power, 45 more horsepower under the hood. The new "Black Edition", the only model available in Canada, will feature custom red and black Recaro racing seats, red and black interior trim with dark headliner and special black six-spoke RAYS lightweight wheels. The Manufacturer's Suggested Retail Price (MSRP) is $109,900.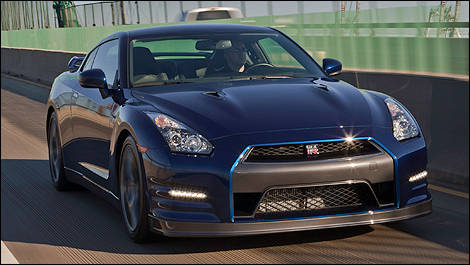 Photo: Nissan
"The Nissan GT-R continues to be a multi-dimensional performance machine that lives up to the concept of 'the ultimate supercar that can be driven by anyone, anytime, anywhere,'" said Judy Wheeler, Director of Marketing, Nissan Canada Inc. "With the significant enhancements for 2012, including its 530-horsepower twin turbo V6 and racing-inspired styling, the GT-R legend continues to grow."
GT-R's already impressive aerodynamics have been improved for 2012 with downforce increased by about 10% and the coefficient of drag reduced to 0.26 (from 0.27). Stability is improved by enlarged fascia and grille openings, which also help reduce air resistance inside the engine compartment. The volume of air that passes through the radiator and cools the front brakes is also increased.
The newly refreshed front fascia features aggressive double rectifier fins and new integrated high intensity LED running lights. Additional plated parts are used for the headlight inner panels, enhancing the car's strong visual presence.
The redesigned rear fascia features a lower centre of gravity than the previous design, created by using a sculpted lower section and extended length. Underfloor cooling performance is also enhanced and air resistance reduced by extending the rear diffuser.