Amid all the major new production models being introduced at the 2018 North American International Auto Show in Detroit this past week, a few concepts made their debuts as well, each of them drawing attention for different reasons. Here are three notable Japanese prototypes we thought deserved a closer look…
Nissan Xmotion
The futuristic compact SUV (pronounced "cross motion") is a six-person vehicle (4+2 configuration). At the Detroit show it won the EyesOn design award for innovative use of colours, graphics and materials.
"In the Xmotion concept, we explored the more rugged and powerful side of Nissan Intelligent Mobility. Bold and powerful forms and proportions are, upon closer inspection, contrasted with aspects of traditional Japanese craftsmanship expressed in a contemporary way. The exterior's combination of western and eastern concepts continues inside the Xmotion, where advanced connectivity and autonomous technologies mix with modern Japanese digital art and cultural craftsmanship.

- Alfonso Albaisa, senior vice president of global design at Nissan
Notable features include the 21-inch all-terrain tires on mechanical-tool-inspired wheels, the retractable rooftop box and the uniquely designed taillights, as well as the central console inspired by a traditional Japanese bridge, the kigumi-style dashboard and no fewer than seven digital screens in the cabin.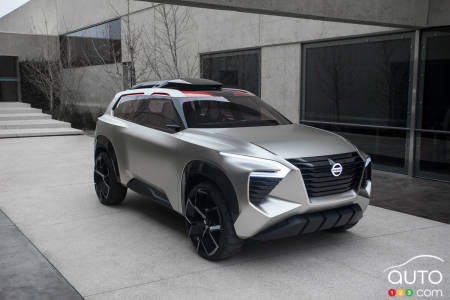 INFINITI Q Inspiration
This new prototype took the Best Concept Vehicle prize as well as the EyesOn award for best interior design at this year's Detroit show. It signals the future design and performance directions INFINITI will be taking in the coming years.
The Q Inspiration is a midsize sport sedan that uses variable-compression turbo engine technology just recently inaugurated in the 2019 INFINITI QX50, along with next-generation ProPilot autonomous-driving systems. Its sleek contours are downright sublime, and promise great things for the automaker's coming production models! The cabin is minimalist in appearance while prioritizing the comfort of occupants. The airy ambiance of the interior is further enhanced by the massive panoramic sunroof.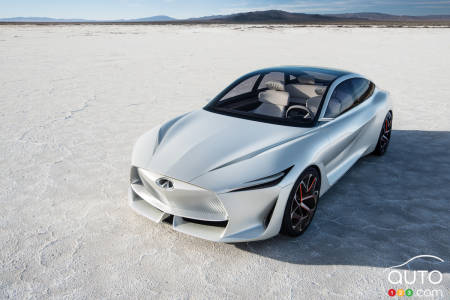 Lexus LF-1 Limitless
Lexus describes the lines of this crossover concept as "molten metal being forged into a fine Japanese sword". The long hood and recessed cabin sit atop 22-inch wheels, together giving the LF-1 Limitless a muscular, athletic posture. The low, slanted roof also signals that this is a performance-focused vehicle.
Inside, the vehicle adheres to the Japanese tradition of omotenashi, a credo of hospitality by which every visitor is welcomed with the same enthusiasm. Its colour scheme is a mix of rose-gold and copper similar to the exterior paint, but more satiny for a more inviting feel. And once the driver pushes the start button, a spectacular light sequence leads to the ambient lighting that is adapted to the drive mode chosen.
As its name implies, the LF-1 Limitless seeks to provide infinite ways to adapt itself to users' different lifestyles, including the way it's powered: it can be propelled by a fuel cell, hybrid, plug-in hybrid, gasoline or all-electric powertrain.