The final Legend makes its European debut at the Paris Auto Show
The sixth and final member of the "Les legendes de Bugatti" collection, the Ettore Bugatti Edition, made its European debut at the Paris Auto Show yesterday. Based on the Bugatti Veyron Grand Sport Vitesse, it pays tribute to the company's founder.
"The Legends edition is an impressive part of the Veyron's success story. Now the car has reached the finishing straight. Fewer than 20 cars are available for customers," said Wolfgang Dürheimer, President of Bugatti Automobiles S.A.S.
The six editions include:
Jean-Pierre Wimille;
Jean Bugatti;
Meo Constantini;
Rembrandt Bugatti;
Black Bess;
Ettore Bugatti.
The Ettore Bugatti Edition is powered by an 8.0L W16 engine rated at 1,183 hp, and sprints from 0-100 km/h in just 2.6 seconds. The front fascia is all aluminum. Pricing is set at more than $3 million apiece.
This marks the end for the Veyron. A brand new model will eventually take over.
Source : thedetroitbureau.com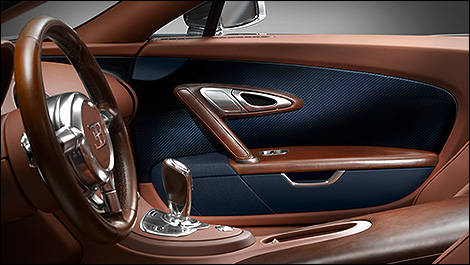 Photo: Bagatti