Next Sunday Ford will finally lift the veil on its much-talked-about electric SUV, the Mustang-inspired Mach-E. That name was recently confirmed by the automaker, and now get some early photos and assorted details about the model, courtesy an accidental leak… that originated on the company's own website.
Sometimes, "accidents" are just good planning. Just sayin'.
In any event, the information was eventually taken down from the website, but not before screenshots were taken by the folks at the MachE online forum.
The leaked information confirms the rumours regarding the powertrain that will include both rear-wheel and all-wheel drive. We also learn that different ranges will be offered depending on the configuration chosen by buyers.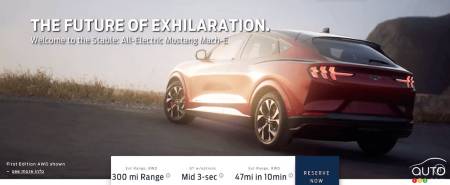 The Premium and California Rt 1 versions will thus offer 500 km of range. Meanwhile the GT variant with AWD will be fastest of the bunch, with a 0-100 km/h acceleration time of 3.5 seconds, but its range will be only 235 miles, or 378 km. The GT will also deliver more total power than the mightiest RWD trim, which will have 333 hp and 429 lb-ft of torque at its disposal.
As for the pricing, the base model will comes with an asking price of $43,985 USD with 370 km in RWD configuration, and 338 km with all-wheel drive. At the top of the range, the GT variant will cost $60,500.
The model gets it official premiere next Sunday evening. We should be getting detailed information for the Canadian editions shortly thereafter.