Twenty-six-year-old Pierre Casiraghi, son of Caroline, Princess of Hanover and Hereditary Princess of Monaco, celebrated his debut in a real racing car in the Scirocco R-Cup in Hockenheim this past weekend.
He developed a love of sport and fast cars at a young age – after all, Casiraghi could watch the Formula 1 Grand Prix in Monaco live on his doorstep each year.
The idea of inviting him to make his debut on the Volkswagen Scirocco R-Cup came from racing legend and Volkswagen ambassador Jacky Ickx.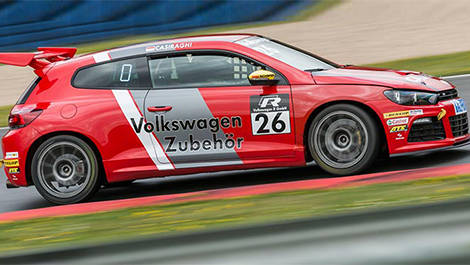 Pierre Casiraghi. (Photo: VW Motorsport)
"I have known his mother, Princess Caroline, for years. His late father Stefano was also a good friend," said Ickx.
"Pierre is very ambitious when it comes to sport. He competes in sailing races and is a keen parachutist. And on top of all that, he is a really nice guy. So I said to him: Pierre, the Volkswagen Scirocco R-Cup would be the perfect opportunity for you to discover the world of motorsport. No sooner said than done!"
Pierre Casiraghi owns several cars: "They are almost all old though, as I am a big fan of vintage and classic cars. They are mainly Italian, including an old Fiat 500. My only modern car is an Audi RS6."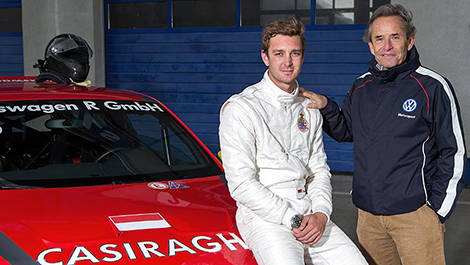 Pierre Casiraghi and Jacky Ickx. (Photo: VW Motorsport)
The rookie finished the first race in 22nd place and claimed 20th place in Race 2.
"I am so happy. That was a fantastic weekend. My first outing in the cockpit of a racing car was amazing fun, but also very tiring,"said Casiraghi.
"I am obviously pleased to have made it through the two races without any major incidents – minor contact and scratches aside. On Saturday I thanked Jacky Ickx and Stéphane Ortelli, who helped me a lot during preparations and here at the circuit. However, I would also like to say a big thank you to the drivers, mechanics and the entire Volkswagen Scirocco R-Cup team for making a rookie like me feel so welcome."