BRAMPTON, Ontario
— When I see a driving course marked out with pylons in a big parking lot, I know one sure thing: some pylons are going to get hurt.
But on this occasion it was definitely for a good cause — to learn about and experience first hand Pirelli's new
Scorpion Verde
all season SUV tire, which is the company's first green tire for North America.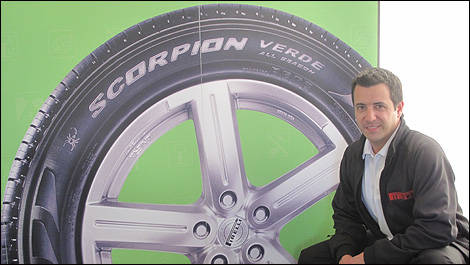 Photo: Mike Geotz
Pirelli
introduced the tire at SEMA 2009, but is now just rolling the product out to Canadian dealers. To get dealers up to speed on this new green movement Pirelli is holding a series of events, called the 2010 Pirelli Boot Camp. Journalists were invited as well, and we jumped at the chance.

Consumers seeking green
Pirelli Canada's head honcho, Anthony Paulozza, told us consumers are now seeking green alternatives in every product category — including tires. But he also noted that as an industry, tire makers have come a little late to the party.
He believes this stems partly from consumers not being able to readily identify a green tire: "They look round and black, like other tires, but have many technical components and environmental factors that make them green. It's hard for some consumers to grasp (the differences)".
Pirelli is a big player in Europe's green tire market. But unlike Europe, North America doesn't have any industry standards that officially denote a "green tire." To help its green tire cause here, so it's a little easier for consumers to "see" the differences, Pirelli introduced 4 green "EcoImpact icons" to the Scorpion Verde's sidewall.
• Fuel Pump icon symbolizes reduced fuel consumption, and subsequent reduced C02 production;
• Highway icon symbolizes high mileage, that the tire is made to last longer, which also contributes to the green cause;
• Leaf icon symbolizes that the tire is manufactured with HAFCs (Highly Aromatic Free compounds), and uses 8 percent less raw materials. Pirelli notes that by 2011, 40 percent of all its tire production, with be at this green level, which also entails less water and energy use;
• Musical Note icon symbolizes reduced road noise levels.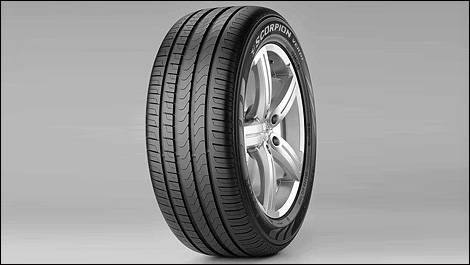 Photo: Pirelli