Lamborghini, Ferrari, Porsche, Bentley, BMW, Rolls Royce, Mercedes-Benz, Lotus, Aston Martin, Bugatti, Jaguar and Saleen.
If that's not jaw-dropping enough, add the world's fastest Enzo, Maserati's MC12, the Saleen S7 TT, a 251 mph Bugatti Veyron, the new Rolls Royce Phantom Drop Head Coupe along with the 1000 horsepower Wide Body Lamborghini Murcielago to create an unparalleled list of outstanding supercars and luxury cars.
These rare and exotic examples of automotive jewelry, and others, will be on display at Vancouver's first annual Luxury & Super Car Weekend hosted by the Edgewater Casino - located outdoors at the Plaza of Nations on Vancouver's False Creek waterfront.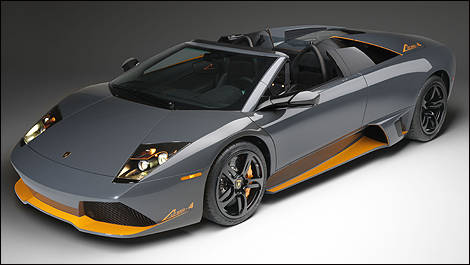 2009 Lamborghini Murciélago LP 650-4
This unique and inaugural event takes place during the weekend of September 12 and 13, 2009.
General admission and VIP show tickets went on sale Saturday, July 25. Tickets are $20.00 and $75.00, available online at
www.wantickets.com
, or in person at Edgewater Casino Guest Services. Tickets may be available at the door, subject to availability.
Combined with the weekend of sensational automotive sights will be a series of dinners and club events to satiate and entertain those springing for VIP status and other invited guests. Full information can be found at:
www.luxurysupercar.com
President of Luxury + Supercar Weekend, Craig Stowe, sums it up this way:
"We're thrilled to bring to the spectacular City of Vancouver this premiere event that promises to be an inspiring and educational experience. It is an exclusive opportunity to discover and celebrate innovation in high-performance and sustainable technology, premier craftsmanship and luxurious style, while exploring the passion and vision behind many of the world's greatest automotive designers and manufacturers."
photo:
Lamborghini