The brand new 2015 Kia Soul EV made its Canadian debut at the Vancouver Auto Show this week. It is scheduled to go on sale in the fourth quarter of 2014.
As Kia's first all-electric, zero-emissions car sold in Canada, the Soul EV provides a range of approximately 160 kilometres on a full charge, although internal testing has resulted in trips of more than 200 kilometres in some instances.
The front-wheel drive 2015 Kia Soul EV is powered by an 81.4kW (109hp) electric motor producing 210 lb-ft of torque through a single-speed constant-ratio gear reduction unit. Acceleration from 0-100 km/h takes 11.4 seconds, while top speed is electronically limited to about 145 km/h.
Equipped with a 27kWh lithium polymer battery, the 2015 Kia Soul EV benefits from the company's third-generation regenerative braking system to convert up to 12% of the car's kinetic energy into electricity.
Charging times vary from 24 hours for a fully depleted battery using a standard 120V household outlet and 4 hours 20 minutes when plugged into a 240V outlet. An 80% charge can be achieved in as little as 24 minutes with a 100kW charger (33 minutes with a 50kW charger).
Pricing for the 2015 Kia Soul EV will be announced at a later date.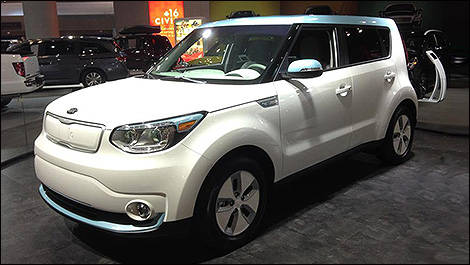 Photo: Kia