Canadian rally driver, "Crazy Leo" Urlichich will be driving a works M-Sport Fiesta R2 rally car in five rounds of the 2014 FIA World Rally Championship in the WRC3 category.
Urlichich becomes one of the 12 competitors from 11 countries who will battle it out over the five-event Drive DMACK Fiesta Trophy this season.
After receiving 24 registrations from across the globe, the organiser's final selection is set to give the series a healthy mix of raw talent, close competition and a real world-wide feel.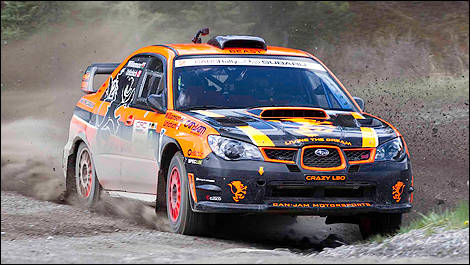 Leo Urlichich, driving the Cam-Jam Subaru Impreza WRX STI in the Canadian Championship. (Photo: Andrew Snucins)
The oversubscribed contest has been pitched as a cost-effective entry level to world rallying and gives crews the opportunity to battle it out on both gravel and asphalt rounds using identical M-Sport-prepared Ford Fiesta R2s on DMACK tires.
The confirmed drivers are:
Leo Urlichich, 28, Canada
Nicolas Amiouni, 24, Lebanon
Tom Cave, 22, UK
Ghislain De Mevius, 25, Belgium
Quentin Gilbert, 24, France
Szymon Kornicki, 31, Poland
Yeray Lemes, 26, Canary Islands
Sander Parn, 21, Estonia
Allan Popov, 27, Russia
Nils Solans, 21, Spain
Jose Suarez, 23, Spain
Max Vatanen, 23, Finland
"I am so happy! I am so glad that I was chosen to be part of the 12 drivers selected", "Crazy Leo" told Auto123.com.
"Despite the fact that I don't have a lot of rally experience in comparison to some of these other drivers, I am delighted to be part this fantastic experience! For a reasonable amount of money, I'll be contesting five rounds of the WRC, Portugal, Poland, Finland, Germany and France. It's by far the most efficient way to be up there in WRC", Urlichich said.
"A very much deserved praise goes to DMACK and M-Sport for making this amazing opportunity possible, and for choosing me as one of the drivers! And a big thank you also to Can-Jam Motorsports and Tim O'Neil Rally School", he added.
The winner of the 2014 Drive DMACK Fiesta Trophy will come away with a remarkable full seven-round WRC 2 campaign using's M-Sport popular Ford Fiesta R5 in the Drive DMACK World Rally Team.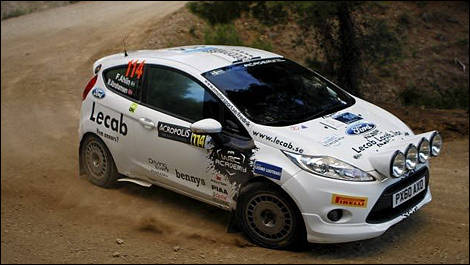 The M-Sport Ford Fiesta R2 (Photo: M-Sport)