From press release
Off road racing star Robby Gordon spent some days in Los Cabos, Mexico to hang out and start developing friendship and sharing ideas with Matt Campbell and the El Martillo Racing team looking forward to the 2015 Dakar Rally.
Campbell, from Calgary, Team Principal and driver of El Martillo Racing invited Gordon to come to Cabo spend time fishing and have a little party with some of the local racing community of Baja California Sur, a nice evening dinner with tacos, speed energy drink and lots of people hanging out with one of the most admired off road racers of Baja.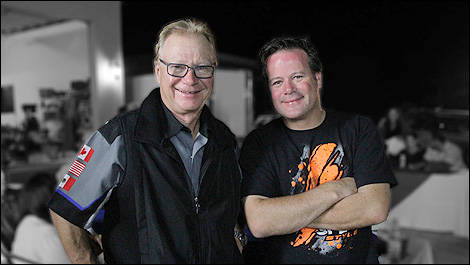 Matt Campbell and Robby Gordon. (Photo: El Martillo Racing)
At the event Matt Campbell made a statement about the plans with Robby Gordon and the motive of his visit. "There was no agenda in fact, but Robby and I are planning and talking about going to the Dakar as a solid North American team, not mixed on cars and teammates but maybe getting together to share some of the logistic and infrastructure…"
Getting clear about this as a project and nothing as a fact, Robby thanked Matt´s invitation and said that he is looking forward to get this alliance cleared out for the benefit of both El Martillo Racing and Robby Gordon Racing. Gordon was very emphatic saying that he wants to win the Dakar and that getting a solid team is the best way to go.