From the press release
Antoine L'Estage and Alan Ockwell of the Yokohama Canada Rally Team led from start to finish to win the Pacific Forest Rally, round four of the 2014 Canadian Rally Championship. The team started strongly, and built a lead they maintained through the second day.
"Thanks to Yokohama Canada, my main sponsor," said L'Estage. "The victory here was my seventh, and I've been able to do so well thanks to the support of my sponsors."
The victory at the rally means L'Estage has mathematically clinched the 2014 driver's championship. However, Ockwell still needs strong results at the final two rallies of the year to join his teammate as the Canadian champion co-driver.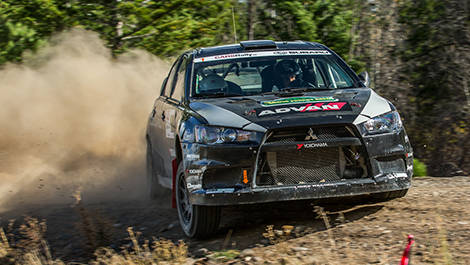 Antoine L'Estage, Mitsubishi Lancer. (Photo: Asron Kathman)
Martin Rowe and Nathalie Richard hoped to challenge for overall victory in the rally that is closest to home for the Squamish, B.C. based team. The Pacific Forest Rally is the second event for the new 2015 WRX STI, and the team continued to improve their pace in the new car.
By the midpoint of the rally, a three-way battle had taken shape for third place. Derik Nelson and Adam Newell flew up the order after starting the rally 36th. Heading into the final loop of stages, the pair was leading the battle for third in their BMW M3.
Just behind the Americans, Boris Djordjevic and Leanne Junnila were the top ranked Production All Wheel Drive entry. In a close fifth place, Kenny Wahl and Aaron Neumann hoped the final section of stages would offer enough distance to make up ground on their rivals.
All three teams ran virtually the same pace on the last stage, with Nelson and Newell holding onto third place overall, easily winning the two wheel drive class.
Djordjevic and Junnila won the Production 4WD class. The team's focus remained on the class championship in which they earned maximum points.
Pacific Forest Rally Final Results

1. Antoine L'Estage – Alan Ockwell – one hour, 21 minutes, 46.0 seconds
2. Martin Rowe – Nathalie Richard – 1:25:48.9
3. Derik Nelson – Adam Newell – 1:31:49.9
4. Boris Djordjevic – Leanne Junnila – 1:32:10.6
5. Kenny Wahl – Aaron Neumann – 1:32:23.3
6. Roger Sieber – Garrett Mealing – 1:34:56.3
7. Matt Bincewski - Nic Bincewski – 1:36:17.2
8. Wim Van Der Poel – Bryan Lord – 1:36:22.3
9. Krystian Ostrowski – Chris Galecki – 1:36:39.6
10. Matt Bobyn – Dan Bobyn – 1:38:59.5