The 2013 manufacturers', drivers' and co-drivers' title in the World Rally Championship (WRC) are Volkswagen Motorsport' greatest success yet.
That is the claim of the boss of VW Motorsport, Jost Capito himself.
"We are very proud," admitted Capito as he picked up the trophies during the FIA's prize-giving gala last Friday. "Never in our dreams did we think we would achieve such a fantastic result in our debut season in the WRC.
"Every single person has played their part in securing the greatest success in the history of Volkswagen Motorsport."
Aboard his VW Polo R WRC, Sébastien Ogier clinched his first WRC title in 2013, with a total of nine victories in Great Britain, Spain, France, Australia, Finland, Italy, Portugal, Mexico and Sweden.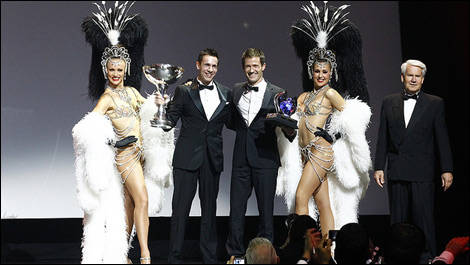 Julian Ingrassia, Sébastien Ogier (Photo: FIA)
"Before the season started, we would have sent anyone who talked of the world title and nine wins straight to the team doctor," admitted the Frenchman at the FIA gala.
In the second VW entry, Jari-Matti Latvala finished third in the drivers' standings, ahead of his second teammate Andreas Mikkelsen, who completed the championship's top 10.