From press release
RK M-Sport World Rally Team's Robert Kubica is reaping the benefits of home support this weekend. Despite an unfortunate roll on the opening day of competition, the Pole has shown some promising and consistent pace which sees him placed eighth overall.
Robert started Rally Poland in excellent fashion with a third fastest time through the opening speed test, but rolled his Ford Fiesta RS WRC under braking on SS2. Fortunately, his loyal supporters were on hand to right his stricken Fiesta and, impressively, the Pole lost just 25 seconds as a result.
Undeterred by the incident, he lost none of his speed en route to the stage end and was able to match the time of World Champion Sebastien Ogier through the final split.
"It's been a long day without so much driving, but I'm pleased with what we have done today and I think the driving has been good," said Kubica.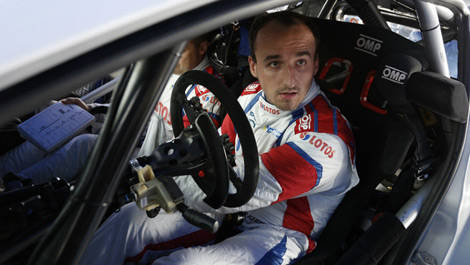 Robert Kubica (Photo: McKlein)
"The stages in Lithuania were getting worse and worse the further down the order you were so it was not easy, but we managed it well.
"I'm sure there will be even more people out on the stages tomorrow so I hope it will be a good day for us that the spectators can enjoy. It's a longer day with five different stages. A lot can happen, but hopefully we can do them well and continue as we have today."