Citroën's Dani Sordo ended Saturday as the new leader of the Germany Rally, round nine of the 2013 Word Rally Championship (WRC).
Former leader Jari-Matti Latvala (Volkswagen) had to throw in the towel after stage 12, where he slipped off the road, and broke a disc brake.
Second-place Thierry Neuville (Ford) went off at the same place, but escaped terminal damage, instead getting away with only a damaged exhaust. The Belgian was slowed down but could still press on.
Sordo therefore leads Neuville at the end of day two, but by only eighth tenths of a second. Sordo's teammate Mikko Hirvonen holds on to third place.
Aboard is Citroën DS3 RRC, Robert Kubica is leading in WRC2 and maintaining himself in the top five overall, ahead of Elfyn Evans (Ford), who is fighting the Pole for the class win.
Latvala will be allowed to take part in Sunday's remaining two stages thanks to Rally2 regulations.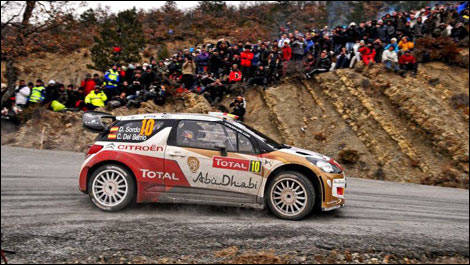 Dani Sordo, Citroën DS3 WRC (Photo: Citroën Racing)
Provisional standings – Rallye Deutschland (WRC)
1. Sordo-Del Barrio (Citroen DS3 Wrc) in 2.43'48"5
2. Neuville-Gilsoul (Ford Fiesta RS Wrc) a 0"8
3. Hirvonen-Lehtinen (Citroen DS3 Wrc) a 1'27"6
4. Prokop-Ernst (Ford Fiesta RS Wrc) a 6'06"3
5. Kubica-Baran (Citroen DS3 Rrc) a 7'33"1
6. Evans-Barritt (Ford Fiesta RS R5) a 7'40"9
7. Latvala-Anttila (VW Polo Wrc) a 9'27"0
8. Paddon-Kennard (Skoda Fabia S2000) a 10'37"3
9. Ostberg-Andersson (Ford Fiesta RS Wrc) a 12'27"8
10. Novikov-Minor (Ford Fiesta RS Wrc) a 14'08"1